Nintendo Download (10/3/18, North America) – Super Mario Party, Batman: The Enemy Within, Mark of the Ninja, more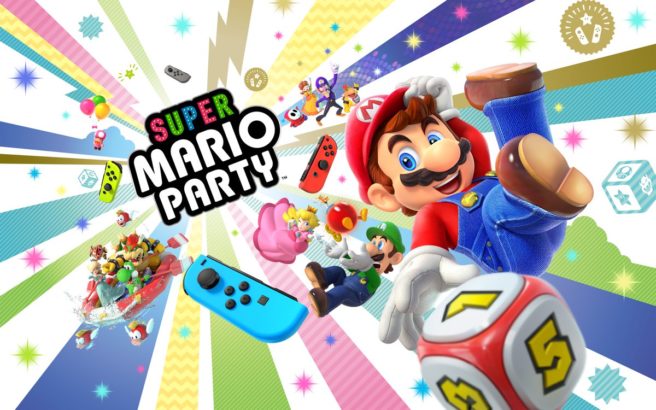 This week's North American Nintendo Downloads are as follows:
Switch Retail
Disgaea 1 Complete – $49.99 (available October 9)
Goosebumps The Game – $29.99 (available October 9)
Super Mario Party – $59.99 (available October 5)
Switch Download
ACA NeoGeo The King of Fighters 2001 – $7.99
Animated Jigsaws: Japanese Women – $9.99
Batman: The Enemy Within – $39.99
Bombing Busters – $5.99 (available October 8)
Dokuro – $8.99
Frutakia 2 – $3.99
Hardway Party – $1.99
Hot Gimmick Cosplay-jong for Nintendo Switch – $20.00
Jettomero: Hero of the Universe – $13.00
Kemono Friends Picross – $9.99
Mark of the Ninja: Remastered – $19.99 (available October 9)
oOo: Ascension – $8.99
Party Crashers – $15.00
Revenant Dogma – $12.99
Six Sides of the World – $8.00
Soulblight – $14.99
Splash Blast Panic – $14.99
Tangrams Deluxe – $4.99
The Midnight Sanctuary – $9.99
Trouserheart – $7.99
True Fear: Forsaken Souls – Part 1 – $9.99
Vertical Drop Heroes HD – $6.99
Switch Demos
Ninjin: Clash of Carrots
True Fear: Forsaken Souls – Part 1
eShop Sales
Nintendo eShop on Nintendo Switch, Nintendo 3DS and Wii U
Great deals this week! Check out the full list of deals available this week at http://www.nintendo.com/games/sales-and-deals.
Activities
My Nintendo Activities – What type of game are you in the mood for this week? Take a quiz for game suggestions, plus while you're there you can also enter the My Nintendo "Games with an Edge" sweepstakes for a chance to win a huge Nintendo Switch prize pack. Visit https://www.nintendo.com/switch/games-with-an-edge for more details.
Earn My Nintendo Points – Can you find Toadette? Search for six hidden Toadette characters on the Super Mario Party site to earn My Nintendo Platinum Points. The more you find, the more points you'll earn. If you find all six Toadette characters, you can earn a free wallpaper. My Nintendo is also celebrating the Super Mario Party launch. Redeem your points and get new Super Mario Party themed rewards at https://my.nintendo.com/.
Nintendo Labo Creators Contest No. 2 Results – Winning creations for Best Toy-Con Musical Instrument and Best Gaming Experience using Toy-Con Garage have now been selected. Be sure to check out all the winning entries, including the runners-up in each category, on the Nintendo Labo Creators Contest Winners' page. Looking for more DIY projects? Nintendo Labo: Vehicle Kit is now available.
Source: Nintendo PR
Leave a Reply