Nintendo Download (5/31/18, North America) – West of Loathing, Just Shapes & Beats, more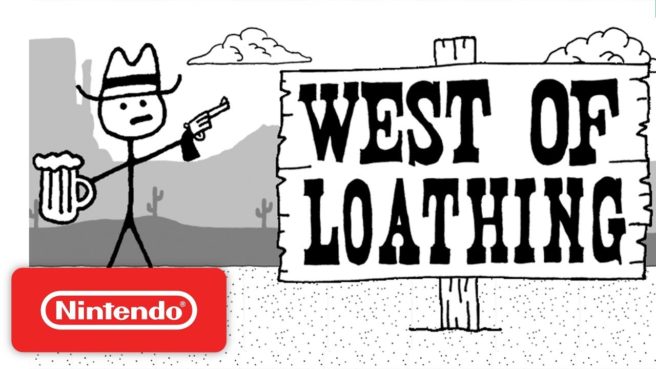 This week's North American Nintendo Downloads are as follows:
Switch Retail
Happy Birthdays (available June 5)
Switch Download
ACA NeoGeo Ninja Combat – $7.99
Defoliation – $9.99
Enigmatis 2: The Mists of Ravenwood – $14.99
Fox n Forests – $19.99
Icey – $9.99
The Infectious Madness of Doctor Dekker – $14.99 (available June 5)
Johnny Turbo's Arcade Joe and Mac Caveman Ninja – $6.99
Just Shapes & Beats – $19.99
Lost Sea – $9.99
Pirate Pop Plus – $4.99
Pokemon Quest – free-to-play
Quad Fighter K – $7.99
SilverStarChess – $5.99
Smoke And Sacrifice – $19.99
Super Sportmatchen – $14.99
Them Bombs! – $9.99
Trax – Build it Race it – $14.99
West of Loathing – $11.00
World Soccer Pinball – $1.99
Yesterday Origins – $29.99
Switch Demos
Kidd Trip
Neonwall
3DS Download
Dragon Lapis – $9.99
3DS Demo
Kidd Trip
Wii U Download
Masked Forces – $2.99
eShop Sales
Nintendo eShop on Nintendo Switch, Nintendo 3DS and Wii U
Great deals this week! Check out the full list of deals available this week at http://www.nintendo.com/games/sales-and-deals.
Activities
Mario Tennis Aces Pre-Launch Online Tournament Demo Event – The Mario Tennis Aces game launches June 22, but we're offering an early chance to polish your skills in the Pre-Launch Online Tournament demo event featuring online tournament mode. Jump online and fight your way to the top of the in-game bracket in frenetic tennis matches. The more rivals you beat, the more points you will earn, which will unlock more playable characters in the demo. This event will only be active for the short time period between 6 p.m. PT on June 1 and 11:59 p.m. PT on June 3. By participating and keeping your save data, you can unlock Mario's classic outfit in the full version of the game once purchased, so don't miss out!
My Nintendo Rewards – My Nintendo is kicking off your summer vacation with new rewards. You can redeem your points and receive up to 50 percent discounts on some fun select games:
Getting together with friends? These games feature multiplayer fun!
Tank Troopers, Kirby Fighters Deluxe, Luigi's Mansion: Dark Moon
Try these fun adventures that are even more fun with friends.
Fantasy Life, Pocket Card Jockey
Traveling to France this summer? Get the Nintendo 3DS Guide: Louvre software!
Having a staycation this summer? These games are fun to play by yourself or with a buddy.*
Paper Mario: Color Splash, Mario Strikers Charged, Mario Hoops 3-on-3
Source: Nintendo PR
Leave a Reply