[Nintendo Everything Podcast] – episode #28 – Mario Maker Direct and Shadows of Adam (feat. Something Classic Games)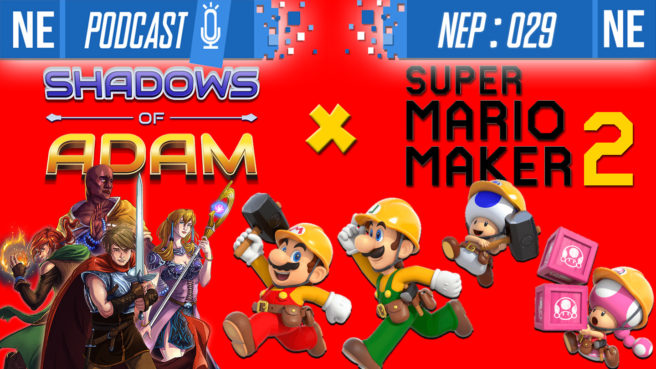 Hello, my angry suns! In this episode of NEP, we've got two special guests joining Oni and Galen: Tim and Tyler from Something Classic Games with the occasional woof from Tyler's dog, Jackson. Something Classic recently debuted their stylish, modern take on SNES-era JRPGs, "Shadows of Adam", on Nintendo Switch!
Join the four of us as we talk all about our reactions to the Super Mario Maker 2 direct and what we think of the unannounced new game style(s), too! We start things off with a casual interview of sorts where Tim and Tyler fill us in on their history in the games and music industries, tales of development, inspiring stories, RPG Maker back in the day, the roots of Shadows of Adam, and what transformations took place over the years. We also end up just chatting about general gaming habits, Pokemon GO, houses full of musicians, cats and dogs, memes…
If you're a fan of classic SNES JRPGs, you don't want to miss out on this episode and you definitely don't want to miss out on Shadows of Adam. So, come have a chill time with us and get to know two of the devs from Something Classic Games.
As ever, we would appreciate your help in growing the show by sharing the podcast with a friend and rating us on your listening platform of choice, such as iTunes!
Thanks for listening!
Timestamps:
02:02 – Adventure Log & Interview double feature: Shadows of Adam! Get to know two of the devs behind the game!
44:54 – Super Mario Maker 2 direct discussions. What we loved, what we hated, what we're surprised about, what we need to see in the future.
1:09:06 – Additional DLC
1:12:33 – Listener Mail: Pimp my smart devices
Additional DLC:
Send us an email and we'll discuss it!
NintendoEverythingPod [at] gmail [dot] com
Listener Bonus: Help the show grow and support us by giving us ☆5 STAR☆ iTunes review, likes and comments on YouTube, and share the Spotify playlist with your Nintendo-loving buddies!
Thank you!
YouTube
iTunes
https://itunes.apple.com/podcast/nintendo-everything-podcast/id1441241130?mt=2
Spotify
https://open.spotify.com/show/0zifaLm4st7KtUzDEojWBh
Direct Download
PocketCasts
Stitcher
https://www.stitcher.com/podcast/nintendo-everything-podcast
PlayerFM
https://player.fm/series/nintendo-everything-podcast
ListenNotes
https://www.listennotes.com/@NintendoEverythingPodcast/
PodTail
https://podtail.com/en/podcast/nintendo-everything-podcast/
Follow us on Twitter and Instagram
@NinEverything
twitter: @Oni_Dino / insta: Oni__Dino
@mobius087
A HUGE thank you to Headphones of Listening for NEP's intro music!
Check him out on soundcloud!
Links
Leave a Reply