Nintendo Power's moon: Most probable games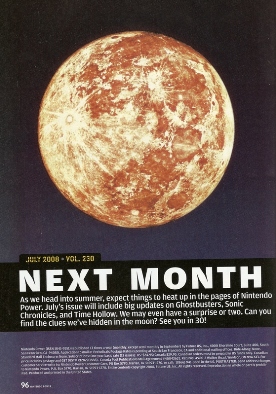 Nintendo Power's moon has stirred up quite a bit of discussion. People have been antsy, waiting in anticipation to find out which title Nintendo Power was referring to in its last issue. The knowledge that the mystery game is a third-party narrows the playing field a bit, yet there are still endless possibilities that lie in store for Nintendo Power's innocuous moon. Here are a few that could definitely be featured next month, although there are many, many other possibilities…
Castlevania
New iterations in the Castlevania series would be the most likely title(s) to be revealed in next month's Nintendo Power. The series has always been associated with the moon, vampires, and other dark content. Castlevania: Order of Ecclesia was recently confirmed for the DS and Koji Igarashi hinted at a Wii Castlevania. Nintendo Power also teased readers that they would reveal a "game or two." Therefore, next month, Nintendo Power might be showing off Order of Ecclesia for the DS and another Castlevania title for Wii.
Harvest Moon
The Wii has seen its fair share of Harvest Moon titles, so another game announcement wouldn't be completely farfetched. It also doesn't hurt that "moon" is part of the Harvest Moon title, too. However, Nintendo Power very recently previewed the upcoming Harvest Moon: Tree of Tranquility game for the Wii. Would Natsume really announce another game even though they already have a Harvest Moon title releasing in North America in just a few months?
Platinum Games title
Does that moon in back of the Platinum Games logo seem familiar? It should, since it is nearly identical to Nintendo Power's moon image. Nintendo Power could be showing off MadWorld, Platinum Games' extremely mature title or perhaps an unannounced game. After all, Platinum Games confirmed that they do have one additional title in development, though it is unknown which console it will release on.

Planet Moon title
The picture of the moon on the last page of Nintendo Power may have been an indirect hint rather than a clear indication of the game(s) the staff are planning on revealing next issue. It is possible that NP will be revealing a game from Planet Moon, a company that has expressed interest in Wii development? Based on Planet Moon's history on Wii, a possible game from the company may be more of a casual title. Nonetheless, it could be promising.
Leave a Reply