Update: A Danish retailer is backing up the release date controversy. See image below.

So much for Nintendo showing all of its cards for the year, huh? Someone appears to have come across some information that points to an October 24th release date in Europe. Although Nintendo has not officially announced this date, a confirmation is supposed to come in the near future. Right now, no one knows whether or not the game will release in America and/or Japan this year albeit anything seems possible.
Note: I'm marking this as a rumor since both the NOA and NOE sites have nothing about a release date on this game. So take the "news" with a grain of salt.
Take a look at the information found by a NeoGAF member below:
Disaster: Day of Crisis

KEY INFORMATION
Survive nature's most devastating catastrophes in Disaster: Day of Crisis, a panic-inducing survival game for Wii. In a devastatingly short period of time, an unprecedented wave of natural disasters has pummeled the United States. On top of this inexplicable series of disasters, a rogue special forces unit has taken advantage of the chaos and seized a nuclear weapon. Only Ray, a former member of an elite rescue task force, has decided to take a stand.
• Cutting-edge physics and gripping visuals re-create the sheer terror of major catastrophes.
• Players race a car down a mountain to escape a roaring pyroclastic flow, dodge toppling buildings during a devastating earthquake and swim for their lives in a raging flood. No matter what happens, fight to survive.

Developer: Monolith Software
Publisher: Nintendo

Revealed at E3 2006 together with many high-profile titles made by Nintendo, Disaster: Day of Crisis was originally planned for a release in 2007. Due to quality issues and a full schedule with games like Super Mario Galaxy or Metroid Prime 3 it was delayed until early 2008. While already sitting on releaselists with a determined July releasedate it was delayed because of on-going quality issues.

Now Disaster: Day of Crisis, developed by the makers of Baten Kaitos and Xenosaga, will finally see a release. Just recently the game got its finishing touches in order to submit a copy to the Australian OFCL (the finished game is needed for their rating). As of today, the game will be released on October 24th in Europe. Let's hope it will slip again out of our field of vision with Animal Crossing in November and Wii Music in December. An official confirmation will follow soon – together with European releasedates for DS games like Professor Layton, Mystery Case Files: MillionHeir and Rhythm Heaven.

Virtual Console
1 (1) – Super Mario Bros. 3
2 (5) – Mega Man
3 (2) – Super Mario Bros.
4 (4) – Super Mario World
5 (3) – Sonic the Hedgehog
6 (8) – Super Mario Bros. 2
7 (6) – Mario Kart 64
8 (10) – The Legend of Zelda
9 (9) – Super Mario 64
10 (7) – The Legend of Zelda: Ocarina of Time
11 (11) – Punch-Out!!
12 (12) – Donkey Kong Country
13 (14) – Pac-Man
14 (13) – Paper Mario
15 (16) – The Legend of Zelda: A Link to the Past
16 (15) – Donkey Kong
17 (17) – Kirby's Adventure
18 (18) – Star Fox 64
19 (20) – Double Dragon
20 (19) – Kirby 64: The Crystal Shards
WiiWare
1 (1) – Strong Bad Episode 1
2 (3) – My Pokemon Ranch
3 (2) – Wild West Guns
4 (4) – Dr. Mario Online Rx
5 (6) – Defend your Castle
6 (5) – Pong Toss – Frat Party Games
7 (7) – Final Fantasy Crystal Chronicles: My Life as a King
8 (18) – Midnight Pool
9 (8) – TV Show King
10 (9) – LostWinds
11 (10) – Family Table Tennis
12 (11) – Cocoto Fishing Master
13 (13) – Gyrostarr
14 (14) – Block Breaker Deluxe
15 (12) – Pirates: The Key of Dreams
16 (16) – V.I.P. Casino: Blackjack
17 (N) – Helix
18 (15) – SPOGS Racing
19 (20) – Pop
20 (17) – Major League Eating: The Game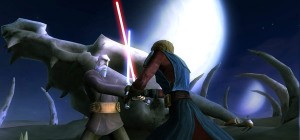 This news comes from the rumors section in EGM…
"Remember earlier this summer when LucasArts finally announced Star Wars: The Clone Wars — Lightsaber Duels, the lightsaber-wielding Wii game that everyone had been waiting for? And then not a month later, when Nintendo announced WiiMotion Plus during E3? Well, apparently LucasArts hadn't heard anything about this new technology, so Lightsaber Duels will not be implementing it. The understandably ticked-off publisher is already in talks about another Wii lightsaber game that will use MotionPlus for sometime next year, according to our sources."
Well, at least there will be a plethora of Star Wars games on Wii soon!

"Nintendo had a substantial supply nationwide for launch, though some stores saw spot shortages due to unprecedented demand for this unique product. The consumer response to 'Wii Fit' at launch was historically exceptional when compared with peripheral-based video game products. We are providing retailers with a constant supply of 'Wii Fit,' so you should see a regular supply of 'Wii Fit' on store shelves as we move through the summer and into the holidays." – Nintendo statement
I know the demand has been crazy with Wii Fit, but shouldn't Nintendo realize at this point that a lot of its products are in high demand? For a very long time, most consumers couldn't pick up the Wii just by walking into a store and the same seems to be happening for Wii Fit.

It looks like people in the UK really enjoy training their brains in minutes a day. Dr. Kawashima's Brain Age has managed to overtake Tomb Raider's original mark of 79 consecutive weeks as the top game in the UK charts, now one less than Brain Age's 80 weeks. This is once again excellent news for Nintendo…But it seems as though everything is going Nintendo's ways these days.

Bomberman Blast (WiiWare)
"Bomberman Blast is an all-new Bomberman for digital download for WiiWare on Wii. Retaining the classic features Bomberman fans have come to love such as online multiplayer battles and numerous arenas, Bomberman Blast also incorporates new gameplay elements, including the use of Miis™ and 8-person online multiplayer – the first time for Bomberman on the Wii! Players can battle it out with each other worldwide going solo or as part of a team. By using their Mii character, gamers will have the opportunity to show off their Mii by suiting him or her up into a Bomberman costume, then blowing away the competition! Now who has the best Mii?"
Alien Crush Returns (WiiWare)
"Alien Crush Returns is a sci-fi pinball game based on the classic TurboGrafx-16 Alien Crush series. In extraordinary pinball fashion, the game offers gameplay spanning two screens, providing players a lot of real estate to rack in points, multipliers, and bonuses. The game is played across multiple boards, all of which feature an eerie alien landscape and enemies that try to prevent pinball perfection. For players who are confident in their alien crushing skills, they can go online to play against friends to see who can get the highest score! Alien Crush Returns is the only pinball game for WiiWare that lets gamers compete head to head online. In addition, the game includes online leader boards for score-obsessed pinball players."
FISHING MASTER WORLD TOUR (Wii)
"Coming to North America in Q1 2009, FISHING MASTER WORLD TOUR offers over 200 different types of fish to catch, enabling players to catch fish in their native waters around the world in the first ever global fishing game on Wii. FISHING MASTER WORLD TOUR offers over forty different locations to fish from in seven different regions. Players can fish on Easter Island, under the Golden Gate Bridge, on the Amazon River and many more exotic global locations. Staying true to the first version's realistic controls, anglers use the Wii Remote™ and Nunchuk™ to battle fish just like in real life. Pull the Wii Remote left and right as the fish fights from the end of the line and adjust the drag to avoid breaking the line. Once players have their skills down, they can compete with friends with four-person multiplayer modes, catch rare fish with exclusive boss battle controls or jump online in Wi-Fi leaderboards tracking the best players in the U.S."
DECA SPORTS™ (Wii)
"DECA SPORTS™, a unique ten-sport game, exclusive to Wii™, is now available at retail for $29.99 SRP. Combining ten sporting events into one game, players can compete in beach volleyball, snowboard cross, badminton, basketball, curling, figure skating, archery, supercross, soccer and kart racing. The game offers a wide variety of sporting events and activities, some rarely seen in a video game. Designed with pick-up-and-play intuitive controls for the Wii Remote™ and in three sports, the Nunchuk, DECA SPORTS also includes advanced controls for power spikes, curls, and mid air tricks for the gamer!"

Family-friendly mini games provide a unique MLB experience

New York, NY– August 26, 2008 – 2K Sports, the sports publishing label of Take-Two Interactive Software, Inc. (NASDAQ: TTWO), today announced that MLB® Superstars, a baseball game that fans of all ages can enjoy, is scheduled to be available for the Wii™ home video game system from Nintendo this fall. MLB Superstars takes America's favorite pastime into a totally new realm by bringing fans' favorite players and teams out of their natural environments and showcasing them in over half a dozen different mini games that speak to the kid in all of us.

Fully utilizing the Wii's motion sensing capabilities and easy pick-up-and-play functionality, MLB Superstars puts a brand new spin on classic games with Baseball Pachinko, Baseball Bocci, and Baseball Golf.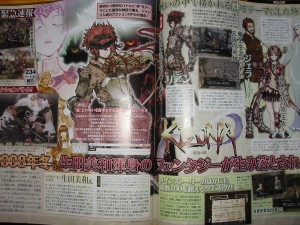 Action RPG
Jaleco/Winter 2008
– Main Character name is Lian
– There's a king call Jared and a princess call Aina
– Game's graphic will have a pencil effect to them
– More than 100 quests
– Accumulated gauge techniques can be used.
– Huge bosses, find the weak point by pointing the Wii remote on screen (Shadow of the Colossus?)
– Scenario: Miwa Shouda (FFXII, Saga Frontier, Little King's Story)
– Director/Programmer: Youichi Kawaguchi (DQVIII, Little King's Story)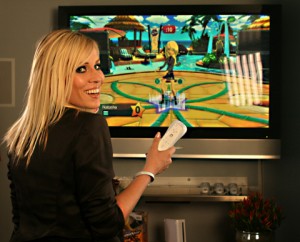 * Angel, Love Like This [remix], Pocketful of Sunshine – Natasha Bedingfield
* Dance Like There's No Tomorrow – Paula Abdul
* Bullseye, Like Whoa, Potential Breakup Song – Aly & AJ
* The Great Escape – Boys Like Girls
* Everytime We Touch, What Hurts the Most – Cascada
* Fancy Footwork – Chromeo
* Thnks Fr Th Mmrs – Fall Out Boy
* Glamorous – Fergie
* Elevator – Flo Rida feat. Timbaland
* I Don't Want to Be in Love (Dance Floor Anthem) – Good Charlotte
* Wake Up – Hilary Duff
* Hold On, SOS, That's Just the Way We Roll, When You Look Me in the Eyes [remix] – The Jonas Brothers
* No One – Alicia Keys
* Take You There – Sean Kingston
* Girlfriend – Avril Lavigne
* Bleeding Love – Leona Lewis
* Shake It – Metro Station
* What You Got – Colby O'Donis
* I Don't Think About It – Emily Osment
* Nine in the Afternoon – Panic at the Disco
* Hot N Cold – Katy Perry
* Jump to the Rhythm – Jordan Pruitt
* Don't Stop the Music, Shut Up and Drive – Rihanna
* Yahhh! – Soulja Boy Tellem
* Radar, Toxic – Britney Spears
* He Said She Said – Ashley Tisdale
* Makes Me Wonder – Maroon 5
* Stronger – Kanye West
NATASHA BEDINGFIELD LENDS STAR POWER TO EA'S BOOGIE SUPERSTAR FOR Wii
Hot Song List Features Hits Made Famous By The Jonas Brothers, Britney Spears, Alicia Keys, Kanye West, Katy Perry, Fall Out Boy and Leona Lewis
Guildford UK, August 27, 2008 – International music sensation Natasha Bedingfield was today unveiled as the featured spokesperson of Boogie™ SuperStar, the upcoming Wii™ title from the Casual Entertainment Label of Electronic Arts Inc. (NASDAQ: ERTS). Bedingfield lends three songs to the Boogie SuperStar soundtrack, also announced today, which features a total of nearly 40 hit singles made famous by some of today's hottest artists.

The latest Famitsu review scores are as follows…
Blue Dragon Plus (NDS, AQ Interactive): 8 / 7 / 7 / 8 – (30/40)
Houkago no Mystery Club: 26 no Tobira (NDS, Interchannel): 4 / 6 / 4 / 5 – (19/40)
Chi's Sweet Home: Chi ga Ouchi ni Yatte Kita! (NDS, Interchannel): 5 / 5 / 5 / 5 – (20/40)
Rainbow Pop (Wii, Interchannel): 6 / 5 / 5 / 5 – (21/40)