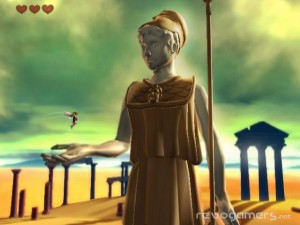 – Not related to Kid Icarus in any way
– Wii remote + nunchuck combination allows Nyx to fly
– There are "Gifts from the gods' power ups (moving objects/wind, fire different shots)
– Co-op included (One controls Nyx, other player controls IR pointer)
– 4 people working on the game
– Trailer in January

The Nintendo DSi was released into the wild was released into the wild in November. Since then, the portable has continued to top the hardware charts in Japan. Unsurprisingly, the handheld has already reached a milestone with more than one million units sold. To date, 1,062,416 DSi hardware units have been sold. In general DS sales numbers, 24,859,874 units have been sold.

LW TW Title Format Label Publisher
1 1 MARIO KART WII WII NINTENDO NINTENDO
2 2 DR KAWASHIMA'S BRAIN TRAINING DS NINTENDO NINTENDO
4 3 WII PLAY WII NINTENDO NINTENDO
– 4 PROFESSOR LAYTON AND THE CURIOUS VILLAGE DS NINTENDO NINTENDO
3 5 CALL OF DUTY: WORLD AT WAR XB360 ACTIVISION ACTIVISION BLIZZARD
5 6 WII FIT WII NINTENDO NINTENDO
26 7 FIFA 09 XB360 EA SPORTS ELECTRONIC ARTS
6 8 LITTLEBIGPLANET PS3 SONY COMPUTER ENT. SONY COMPUTER ENT.
7 9 CALL OF DUTY: WORLD AT WAR PS3 ACTIVISION ACTIVISION BLIZZARD
8 10 GEARS OF WAR 2 XB360 MICROSOFT MICROSOFT

WiiWare
Fun! Fun! Minigolf – 302 blocks
Tiki Towers – 284 blocks
VC
Phantasy Star IV – 42 blocks


Wii-kly Update

Two WiiWare Games and One Virtual Console Game Added to Wii Shop Channel

Did you think Grandma's house was the only travel destination on your itinerary this holiday season? Think again. Thanks to the Wii™ Shop Channel, you've got some extraordinary places to see, from tropical islands and exotic golf courses to a faraway planet in need of triumphant heroes. Whether you play solo or with family and friends, these awesome new offerings are sure to deliver an extra dose of holiday cheer.

Nintendo adds new and classic games to the Wii Shop Channel at 9 a.m. Pacific time every Monday. Wii owners with a high-speed Internet connection can redeem Wii Points™ to download the games. Wii Points can be purchased in the Wii Shop Channel or at retail outlets. This week's new games are:

Famitsu has confirmed today that a new Final Fantasy Crystal Chronicles: The Crystal Bearers trailer is on the way. The video will be included in the Wii version of Final Fantasy Crystal Chronicles: Echoes of Time. It is unclear how long the "special trailer" will be, but the video should show at least a few seconds of new footage. A few weeks ago, Final Fantasy Crystal Chronicles: The Crystal Bearers was assumed to be dead before an official statement was released by Square Enix, confirming its existence.


Remember: Games like Zack & Wiki were released in Europe this year.
1 – Mario Kart Wii (Wii)
2 – Zack & Wiki: Quest For Barbaros' Treasure (Wii)
3 – Super Smash Bros. Brawl (Wii)
4 – Professor Layton and the Curious Village (DS)
5 – Okami (Wii)
6 – Advance Wars: Dark Conflict (DS)
7 – Soul Bubbles (DS)
8 – Guitar Hero World Tour (Wii)
9 – de Blob (Wii)
10 – No More Heroes (Wii)
11 – Mega Man 9 (WiiWare)
12 – The World Ends With You (DS)
13 – Animal Crossing: Let's Go To The City (Wii)
14 – Sonic Chronicles (DS)
15 – FIFA 09 All Play (Wii)
16 – Dr. Mario & Germ Buster (WiiWare)
17 – Boom Blox (Wii)
18 – Space Invaders Extreme (DS)
19 – Trackmania DS (DS)
20 – We Love Golf (Wii)
21 – Viva Pinata: Pocket Paradise (DS)
22 – Final Fantasy Tactics A2 (DS)
23 – Strong Bad's Cool Game For Attractive People (WiiWare)
24 – Call of Duty: World at War (Wii)
25 – Wii Fit (Wii)

– 13 different background themes to listen to whilst you read (14 if you include 'No BGM'!), e.g. Easy Listening, Beach, Airport and Summer Day.
– Change font size from small to large (small is probably more like a 'medium' – no strain on the eyes)
– Can choose to just show the current page number, or show page number and total pages (for those that want to know how long is left)
– Use either the D-Pad or L/R buttons to change pages (remember the DS is held sideways, like in Brain Training and Hotel Dusk to emulate a real book!)
– The DS orientation can be changed to suit left-handed people
– Local Wireless: Send a trial version to another DS ('Send Trial', 'Send Book', 'Receive Book')
– Wi-Fi: Download New Books (ten available right now – seems like there's about 1MB of free space on the cartridge and the books are less than 100KB – took about six seconds to download a 70KB book and a further five to save it to the DS card), and Update Rankings (book popularity – ranked by users of the game or categorised by ten different user-attributed criteria, such as 'Exciting', 'Shocking', 'Profound' and 'Bizarre')
– Tutorial: tap either edge of the touch screen to change page or slide stylus across screen to flip pages back and forth. Tap the bottom of the screen to bring up a scroll bar that lets you jump to whatever page you want. Tap the top of the screen to bring up a menu that lets you bookmark the current page (automatically removed when you go back in and change the page) or exit the book.
– Books that have been read will be highlighted with an 'R' on its spine in the selection screen.
– Quiz feature: The in-game owl asks several questions ('What did you dream last night', 'What is your favourite colour', etc) to determine what books will most likely be interest to the user (for me the three were 'Tales of Mystery and Imagination', 'The Casebook of Sherlock Holmes' and 'The Adventures of Sherlock Holmes'!)
– Choosing books is as simple as going to the in-game bookshelf and using either the stylus (slower) or scroll bar at the bottom (faster) to browse what's on offer. When a book spine is tapped on, its specific menu pops up, where users can read the book, learn more about it or learn about its author.
– Search and sort functions also exist by tapping the top of the screen in the bookshelf mode. Search Alphabetically, By Length, Genre, Era, My History, Ratings and/or Description. Sort by Author or Title.