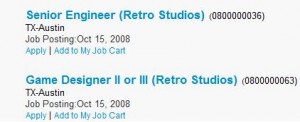 It's been more than a year since Metroid Prime 3: Corruption, Retro Studios' latest Wii project, was released. People have been wondering what Retro has been up to – In fact, the question has been whether the company has been up to anything at all. Good news: It's more than possible that Retro Studios is actively engaged in some sort of development, and if not, the company probably will be doing so soon. Two job postings have been placed online, as Retro Studios is looking to hire a Senior Engineer and Game Designer II/III. The Senior Engineer job description duties include the obligation to "develop systems and content for Nintendo titles" and being "responsible for the development and integration of game systems and tools." This information does not necessarily indicate that Retro has a new game in development, but the job description for the Senior Engineer is an encouraging sign for the future. It is clear now that the company isn't just sitting around and taking time off – Retro definitely has something cooking in the kitchen.

1. "American Patrol" the march by F.W. Meacham
2. "Animal Crossing's K.K. Blues" by K.K. Slider
3. "Animal Crossing: Wild World" Theme
4. "Bridal Chorus" by Richard Wagner
5. "Chariots of Fire" by Vangelis (from Chariots of Fire)
6. "Daydream Believer" by The Monkees
7. "Do-Re-Mi" by Rodgers and Hammerstein (from The Sound of Music)
8. "Eine Kleine Nachtmusik" by Wolfgang Amadeus Mozart
9. "Every Breath You Take" by The Police
10. "F-Zero Mute City" Theme

Best Buy
High School Musical 3: Senior Year (Wii) – Free exclusive earbuds with purchase
Circuit City
Wii Music (Wii) – Free $10 gift card with purchase
Game Party 2 (Wii) – Free $10 gift card with purchase
Free Wii battery kit with purchase of NYKO Charge Station for Wii
Target
Boogie Super Star (Wii) – $54
Looney Tunes: Duck Amuck (DS) – $11.99
Go Diego Go: Safari Rescue (DS) – $11.99
Nerf case for Nintendo DS – $11.99


"For starters though, we've got official confirmation that Tetris Party will be coming to WiiWare next Monday, October 20th for North America. Set your watches, and get your cash ready, as WiiWare is again going to hit with yet another killer title." – IGN article
I don't know about you guys, but I'll be purchasing this game. Tetris Party definitely seems like one of the top-tier WiiWare titles to pick up!

"I'm not sure where 'this is the final build' stuff is coming from, because that is simply not true. The TGS "build" was mostly just a tech demo and is not the actual or final game, guys…I believe the situation is this: 1) the final game is almost done. 2) the final game is NOT the tech demo shown at Leipzig or TGS. The tech demo is a tech demo, and is not the final game. No press or media have yet seen the version of the game that Nikai was talking about when he said it was basically done. Someone at Capcom said there would be a new version of the game at TGS because that was the plan, but for reasons I dunno the details on, it didn't happen. As for why we would show the same thing over again, it mostly boils down to different producers having different attitudes, and Nikai definitely has his own way of doing things. This is not a hair-splitting technicality, as I know a number of things have changed. I haven't played the final build, so I dunno if it's going to be 3000% different, but I have seen screenshots, and yes, there are more zombies on the screen and a few other notable changes. I can't promise the moon without having actually played it, but I'm not trying to double-talk you here. The TGS build is not the final game, and there do appear to be some positive changes going forward." – Seth Killian, Capcom Community Sr. Manager
What do you guys think? Impressions of the game have been more than critical, but as was mentioned, that was the final build. Will changes that have supposedly been made increase the title's quality?