"No announcement has been made." – Nintendo statement (NOE)
Usually, Nintendo provides that "Sorry but we don't comment on rumors and speculation" response. Nintendo isn't confirming anything, but does anyone else believe Nintendo is going to make an announcement about the game soon?
Small update: I've embedded the video. The release date discussion comes towards the end.
High Voltage Software put out a press release in June. Included in the release was a launch window for The Conduit – Q1 2009. However, it looks like the specific month has been narrowed down for the game's launch window. When Gamereactor asked when The Conduit is scheduled to launch, Eric Nofsinger noted that the team is "looking at a March release of next year" for the game. It's possible that the title could be bumped back or even pushed forward, but as it stands, expect a March release for The Conduit.
Intense Dodgeball Rivalry to be Settled on Wii Courts Everywhere This Winter

Cockpit, Austin, TX – August 28, 2007 – Gamecock Media Group announced today that Blazing Lizard's Pirates vs. Ninjas™ Dodgeball will release on Wii™ this winter. The title features two ancient rivals, ninjas and pirates, along with several other teams, all looking to settle the score once and for all – on the dodgeball court.

"The competition between the Pirates and the Ninjas is so huge that battles are breaking out all over," said Harry Miller, El Presidente of Gamecock Media Group. "We're happy to bring this grand conflict to the Wii, and give players the chance to help determine who the ultimate champions are."
*Online gameplay is only available for the Xbox 360 video game and entertainment system from Microsoft, PlayStation 3 computer entertainment system and Wii and may require an additional subscription.
First of all, it's really difficult to understand that sentence…Who wrote that?! It seems as though people who own the 360 version of Guitar Hero won't have to pay an additional fee to play online whereas PS3 and Wii owners will. However, if World Tour is utilizing the Nintendo Wi-Fi Connection, I don't see why Activision would charge gamers anything. I'm pretty sure all other Wi-Fi Connection titles have been set up so that consumers would not have to play to go online.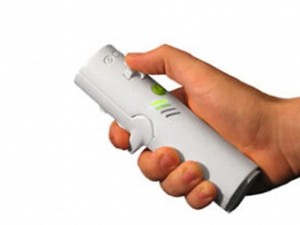 Wii MotionPlus is an undeniable step-up in terms of the accuracy of the Wii remote, yet it's a valid point to say that such technology should have already been available in the controller since the Wii launched. So, why has Nintendo taken an initiative to increase the "power" of the controller? The makers of Darwin are making a case that Nintendo is launching MotionPlus as a response to their product. Speaking with GameSpot, Motus CEO Satayan Mahajan explained, "I think it should be a lot closer to the Darwin [Wii MotionPlus]. It's still missing the magnetometers, so it's still a system that needs that IR strip to figure out where it is, whereas the Darwin is completely self-contained. If I'm not mistaken, there were a number of postings and blogs, and we've been hearing through our friends and family, so to speak, that the Wii MotionPlus was a response to the Darwin."
I honestly don't think Nintendo would be threatened by Motus and Darwin. Nintendo has been known for peripherals/add-ons and the big N is in a very comfortable financial situation right now.
1. [PS2] J-League Winning Eleven 2008 (Konami) (79,000) / NEW
2. [NDS] Rhythm Tengoku Gold (Nintendo) (57,000) / (536,000)
3. [NDS] Inazuma Eleven (Level 5) (41,000) / NEW
4. [NDS] Dragon Quest V:…Heavenly Bride (Square Enix) (32,000) / (1,125,000)
5. [PSP] Phantasy Star Portable (SEGA) (31,000) / (595,000)
6. [WII] Wii Fit (Nintendo) (30,000) / (2,546,000)
7. [NDS] Harukanaru Toki no Naka de:…. (KOEI) (26,000) / NEW
8. [NDS] Sigma Harmonics (Square Enix) (23,000) / NEW
9. [WII] Mario Kart Wii (Nintendo) (19,000) / (1,711,000)
10. [NDS] Daigasso! Band Brothers DX (Nintendo) (16,000) / (296,000)
It looks like all of the recent European news has come from a retailer meeting Nintendo had last week. I'm still not 100% sold on Disaster releasing in Europe on October 24th, but I definitely hope so…That would mean Japan and America would see similar release dates (again, I hope!) Anyway, here's a bunch of retailer release dates.
DS:
Age of Empires Mythologies (THQ) – 28.11.2008 – 39,99 Euro
Call of Duty: World at War (Activision) – 28.11.2008 – 39,99 Euro
Caslevania: Order of Ecclesia (Konami) – 17.11.2008 – 39,99 Euro
Crash: Herrscher der Mutanten (Vivendi) – 16.10.2008 – 39,99 Euro
Drawn to Life: SpongeBob (THQ) – 26.09.2008 – 39,99 Euro
Eledees: The Adventures of Kai and Zero (Konami) – 17.11.2008 – 39,99 Euro
Fifa 09 (EA Sports) – 02.10.2008 – 39,99 Euro
Flower, Sun & Rain – Mord im Paradies (Eidos) – 30.10.2008 – 39,99 Euro

"Wii's unique interface and market-leading hardware sales rates have convinced publishers to deepen support levels for the platform. Cheap development costs have also enabled a number of smaller publishers." – Screen Digest
Over the past few months, the third-party situation on Wii has looked anything but bleak. Compared to a few years ago with the GameCube, a lot of third-parties are finding success on the system. Companies are supporting the Wii and thus are seeing some great results in some cases. So, in that regard, it really helps to have third-party support behind you and definitely contributes to the amount of original IPs.