Videos
Developer's Voice – Punch-Out!!
EA Sports Active Bob Greene's Philosophy
Guitar Hero Metallica Behind the Scenes 3
The Conduit Storyline Video
EA Sports Grand Slam Tennis Info Video
Virtua Tennis 2009 – Court Games Video 1
Yu-Gi-Oh! World Championship 09 Video
Imagine Music Fest TV spot
Cursed Mountain Video 2
MySims Racing Info Video
Henry Hatsworth Villain Enhancement
Penguins and Friends Info Video
Crystal Defenders R1 Video 2
Digest Video
Demos (Expire 5/11)
Personal Trainer: Cooking Mac & Cheese Demo
MySims Party
Trackmania DS
Up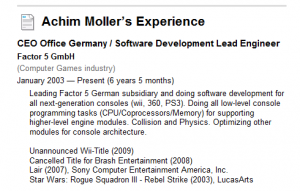 The last time we heard rumblings regarding Factor 5, rumors surfaced that the team was working on two Wii titles. According to the image above (which comes from Achim Moller), at least one project could be shaping up for a release this year.

STYX AND REO SPEEDWAGON HEADLINE THIS WEEK'S WiiTM ROCK BANDTM MUSIC STORE UPDATE; PLUS NEW TRACKS FROM SYSTEM OF A DOWN, THE CLASH, DEVO AND MORE!

Cambridge, Mass. – May 4, 2009 – Harmonix and MTV Games announced today 18 new tracks coming this week to the Rock Band™ Music Store catalogue of downloadable content for the Wii™ system, including seven tracks from 80s power rockers REO Speedwagon and Styx. This week's music update also includes songs from All That Remains, The Clash, Devo, Hautewerk, The Ramones, and System of a Down.

Three of Styx's biggest singles were recently re-recorded for Rock Band, including "Blue Collar Man (Long Nights)" and "Renegade" originally featured on the band's eighth studio album Pieces of Eight (1978), plus "Too Much Time on My Hands" originally featured on the band's 1981 concept album Paradise Theatre.

– 22.05.09: Bionic Commando (PS3, Xbox 360)
– 22.05.09: Neopets Puzzle Adventure (Wii, NDS)
– Spring 2009: Monster Hunter Freedom Unite (PSP)
– 2009: Resident Evil: The Darkside Chronicles (Wii)
– TBA: Dark Void (PS3, Xbox 360)
– TBA: Lost Planet 2 (Xbox 360)
– TBA: Dead Rising 2 (PS3, Xbox 360)

– Cannot cheat the game
– Can't just sit down, waggle Wiimote with short/sharp motions
– When you quickly waggle the Wiimote, that will translate to a quick slice in-game
– Need to actually try to deal out big damage
– Sword also used for defense (thus better than a gun during combat)
– There will be instances where you will have to deal with multiple enemies
– Still use B button + pointer to shoot
– Reconfirmed that you can pull off sword + gun combos
– Passing through near-future desert town (Aldera)
– Architect is a mix of East and West
– Hero is mysterious at the beginning
– Hero is a take on Clint Eastwood character in the Dollars movies
– Nameless, faceless, friendless at the start
– Pretty powerful from the beginning of the game
– There will be plenty of variety in missions
– Need greater thought/skill against bosses
– Objectives connected to the hero
– Different levels of blocking as you progress
Thanks to joclo for the news tip!



EA SPORTS™, a label of Electronic Arts Inc. (NASDAQ: ERTS), today announced that both Tiger Woods PGA TOUR® 10 and EA SPORTS Grand Slam® Tennis will ship to stores June 8 in North America, one week earlier than originally announced. EA SPORTS recently announced that the Wii™ version of Tiger Woods PGA TOUR 10 will be available packaged with the Wii MotionPlus™ accessory in both North America and Europe. In Europe only, EA SPORTS Grand Slam Tennis will be available with Wii MotionPlus at launch.

"This was important for us to bring in our ship dates for Tiger Woods PGA TOUR 10 and EA SPORTS Grand Slam Tennis to hit right at the launch of the new Wii MotionPlus accessory in North America," said Todd Sitrin, Group Vice President Global Marketing, EA SPORTS. "Fans deserve great games that use the new accessory, and now they'll have two that deliver authentic sports motion as soon as the Wii MotionPlus hits stores."

Super Mario Kart – G
Pilotwings – G
Somnium – G
PicoPict – G

DSiWare
Animal Crossing Clock – 16 blocks
Animal Crossing Calculator – 17 blocks
WiiWare
Penguins & Friends – Hey! That's My Fish! – 186 blocks

VC
Tower Toppler – 36 blocks