"Technology actually was not a major concern for us when we decided to use the train. In The Legend of Zelda: Phantom Hourglass, the boat was the key mode of transportation. Now that Spirit Tracks takes place on land, we needed a new way for players to get around, and felt that the train offered the best sense of exploration and discovery. We don't think it feels out of place in the game world. Trains are also a popular mode of transportation in Japan. My children and I still feel a great sense of adventure when we ride trains in Japan. Regarding use of other forms in technology in the future, as long it adds to the overall game experience and is something we feel the player would enjoy, we wouldn't be afraid to implement it. As a matter of fact, we have used the Hook Shot in several previous games, which would be considered a very modern type of technology, even by today's standards." – Eiji Aonuma
When you think about all of the Zelda games, the technology used in the series has become more modernized as additional titles were released. To be honest, I was a little surprised when the first trailer of Spirit Tracks was released, which showcased the train. Is there any piece of technology in particular you guys would like to see in a Zelda game?

CAMBRIDGE – November 30, 2009 – Put yourself closer to the action with a more intimate viewpoint of the gem-studded match-3 video game Puzzle Quest 2, announced today for Xbox LIVE® Arcade for the Xbox 360® video game and entertainment system from Microsoft and Nintendo DS™. Puzzle Quest 2 combines its trademark style with an enhanced real-time experience using all-new weapons, spells, and shields that make every decision meaningful and never passive in the deepest puzzle adventure yet. Named one of GamePro's "Top Upcoming Sequels of 2010", Puzzle Quest 2 is scheduled for release in spring 2010 from D3Publisher.

"Puzzle Quest is an award winning franchise with numerous accolades including an Interactive Achievement Award for "Best Downloadable Game of the Year" for Puzzle Quest: Challenge of the Warlords," said Peter Andrew, vice president of product development, D3P. "Puzzle Quest 2 returns with a captivating, rewarding, and accessible journey for gamers of all levels as the ultimate delivery system for the mental release puzzle gamers seek."

1 1 CALL OF DUTY: MODERN WARFARE 2 INFINITY WARD ACTIVISION ACTIVISION BLIZZARD
2 2 ASSASSIN'S CREED II UBISOFT (MONTREAL) UBISOFT UBISOFT
3 3 NEW SUPER MARIO BROS. WII NINTENDO NINTENDO NINTENDO
6 4 FIFA 10 EA CANADA EA SPORTS ELECTRONIC ARTS
5 5 WII FIT PLUS NINTENDO NINTENDO NINTENDO
4 6 WII SPORTS RESORT NINTENDO NINTENDO NINTENDO
8 7 MARIO & SONIC AT OLYMPIC WINTER GAMES SEGA SEGA SEGA
7 8 LEFT 4 DEAD 2 VALVE EA GAMES ELECTRONIC ARTS
9 9 FORZA MOTORSPORT 3 TURN 10 STUDIOS MICROSOFT MICROSOFT
11 10 F1 2009 SUMO DIGITAL CODEMASTERS CODEMASTERS

"It certainly would be interesting to do the game for Wii… We're always looking to do something new something that hasn't been done before. We're going to continue on that path." – Technical Director Marius Fahlbusch
I wonder if we will ever see a Wii version of Scribblenauts, whether it's a port or an original game. At this point, the latter seems more likely. You may remember that a few weeks ago, a rumored Warner Bros. listing showed Scribblenauts 2 for the Wii and DS.

Whether you succumbed to a food coma, found yourself trapped at the mall or just planted yourself in front of the television, clearly you need a break from the exhausting holiday weekend. And Nintendo is here to help, with 10 downloadable games sure to provide a welcome distraction. WiiWare™ brings the latest installment in the gripping Tales of Monkey Island series, while Nintendo DSiWare™ serves up some magic along with the popular Bookworm™ and Foto Face: The Face Stealer Strikes, a game starring … you. And don't forget to take a trip down memory lane with two Virtual Console™ classics – one from Super NES™ and one from the arcades.

For you Flipnote Studio™ fans, there's something "dynamite" on the Nintendo Channel and the Flipnote Hatena Web site this week, so be sure to check it out. You can also watch and download Flipnotes created by renowned artists like Aardman Animations LTD. at the new Flipnote Central section.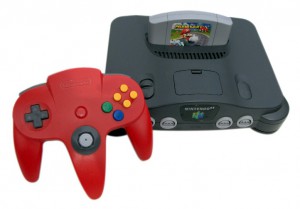 Thinking back to the days of my youth, one memory stands out above all else: The summers. School was out, the air was fresh, and all the kids got together to play baseball and Frisbee in the park. All of them except me, because summers to me were filled with nothing but a constant fascination with the Nintendo 64. First it started with FIFA (which version it was eludes me at the moment) but as the summer went on I got more games, from Mario 64 to my personal favorite, Star Fox 64. Then, at the end of the summer, it all went away once again, leaving me dreaming of games throughout the fall, winter and spring until the cycle repeated itself.
Though, you're probably wondering, "Why such an odd cycle of gaming, Austin?", and I'm about to tell you.

First day sales from 11/19 were conspicuously absent last week. However, the numbers have finally been reported and show sell-through rates. We've posted the figures below.
Left 4 Dead 2 (360) – 18,000 (65%)
Ratchet & Clank Future: A Crack in Time (PS3) – 10,000 (32%)
Taiko no Tatsujin Wii 2 (Wii) – SA 9,800 (8%) / BE 4,200 (3%)
Dorabase 2 (DS) – 8,000 (12%)
Armored Core Silent Line Portable (PSP) – 7,900 (26%)
Mario & Sonic at the Olympic Winter Games (DS) – 7,400 (6%)
Metal Fight Beyblade (DS) – 2,400 (9%)
Calling (Wii) – 1,100 (23%)
Jak and Daxter: The Lost Frontier (PSP) – 1,100 (14%)

SpongeBob's Boating Bash (DS/Wii) – E
No More Heroes 2: Desperate Struggle (Wii) – M
Discovery Kids Snake Safari (DS) – E10+
How to Train Your Dragon (DS) – E10+
5 in 1 Solitaire (DSi/Wii) – E
Manic Monkey Mayhem (Wii) – E
Jazzy Billiards (DSi) – E
Tales of Monkey Island – Chapter 4 – The Trial and Execution of Guybrush Threepwood (Wii) – E10+
Pizza Delivery Boy (Wii) – E
James Cameron's Avatar: The Game (DS) – E10+
James Cameron's Avatar: The Game (Wii) – T

Small update: Added in the teaser page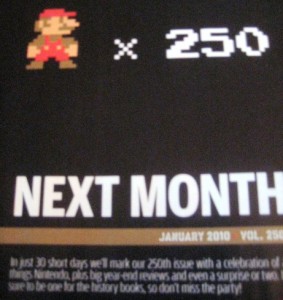 It's been more than 20 years since the first Nintendo Power was published. And next month, the magazine will be reaching a milestone – It's 250th issue. To celebrate,  it looks like Nintendo Power has "a surprise or two" in store. It's unclear if there will be any actual game announcements, but the magazine has been pretty good with nabbing exclusives in the past. Here's what the teaser from the latest Nintendo Power actually says:
"In just 30 short days we'll mark our 250th issue with a celebration of all things Nintendo, plus big year-end reviews and even a surprise or two. It's sure to be one for the history books, so don't miss the party!"

Best Buy

Buy 1, Get 1 50% off the following games:
– Teenage Mutant Ninja Turtles: Arcade Attack
– Spongebob: Truth or Square
– World of Zoo
– Chaotic: Shadow Warriors
– Hello Kitty Party
– Jonas
– A Christmas Carol
– Battle of Giants: Dragons
– Imagine: Babyz Fashion
– Marvel Super Hero Squad
– Scrabble
– Star Wars: The Clone Wars: Republic Heroes
– Scribblenauts
– Call of Duty: Modern Warfare: Mobilized
– Imagine: Fashion Designer: World Tour
– Spore Hero Arena
– TouchMaster 3
– Cars: Race O Rama
– The Legendary Starfy
– Professor Layton and the Diabolical Box
– Petz: Nursery
– MySims Agents
– Hasbro Family Game Night
– Drawn to Life: The Next Chapter
– Style Savvy
– Pokemon Mystery Dungeon: Explorers of Sky
– Petz: Hamsterz Superstarz
– Gardening Mama
– Dora Puppy
– WireWay
– Mario & Sonic at the Olympic Winter Games
– Bakugan: Battle Brawlers: Collector's Edition
– Mario & Luigi: Bowser's Inside Story
Target
Scribblenauts (DS) – $19
LEGO: Battles (DS) – $19
Kiby Super Star Ultra (DS) – $19
Imagine: Fashion Designer World tour (DS) – $19
Petz Nursery (DS) – $19
Style Lab: Jewelry Design (DS) – $19
Magagascar Kartz (Wii) – $29
EA Sports Active: More Workouts (Wii) – $29
Super Hero Squad (Wii) – $29
Just Dance (Wii) – $29
Ringling Bros. and Barnum & Bailey Circus (Wii) – $29
Metroid Prime Trilogy (Wii) – $29