Piczle Lines DX 500 More Puzzles and Piczle Colors announced for Switch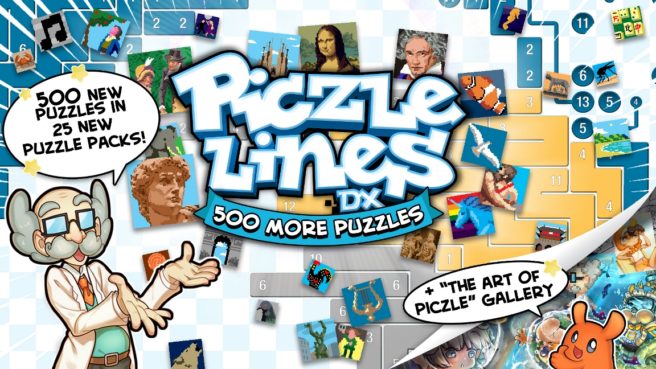 Rainy Frog and Score Studios have announced a pair of new Piczle games for Switch. Piczle Lines DX 500 More Puzzles launches next week, and Piczle Colors will follow later in the year.
Here's information and assets for both:
Piczle Lines DX 500 More Puzzles
25 new puzzle packs with 20 puzzles each, containing famous places and people, works of genius and very challenging color puzzles!

Some of the 500 puzzles included:

France: Arc De Triomph
Sea Life: Dolphin
Boffins: Beethoven
Italy: Michelangelo's David
Works of Genius: Mona Lisa
Boffins: Beethoven
Legendary Heroes: Heracles
Mythical Beasts: Pegasus

A special behind-the-scenes look at some of the Piczle art created by Score Studios. 36 pages of character designs, sketches, icons, doodles and promotional artwork to admire, some of which has never been seen before.
Piczle Colors
Highly anticipated follow-up! Piczle Colors will exercise your brain in exciting new ways with a unique logic-puzzle style, a fun story, a bucket load of extras and the return of your favorite characters!

Inventive genius professor Matrix has created a paint, Piczle Paint 3000, that can leech the color out of anything it covers. His inventions, including this one, are not safe in the hands of Score-chan. Can you help her and Gig undo the great chaos created by her inevitable mishandling of Piczle Paint 3000? Also there is bug the cat who is naturally more concerned with cat matters.

Row and above each column tell you how many blocks of each color go in each row or column. By following these hints you can paint each part of the grid and reveal an image. However, these hints do NOT tell you the order they come in!
Piczle Lines DX 500 More Puzzles is due out July 26 worldwide. Piczle Colors will follow this winter.
Source: Rainy Frog PR
Leave a Reply