Pikachu and Eevee embark on a road trip across the U.S. to demo Pokemon: Let's Go, Pikachu / Eevee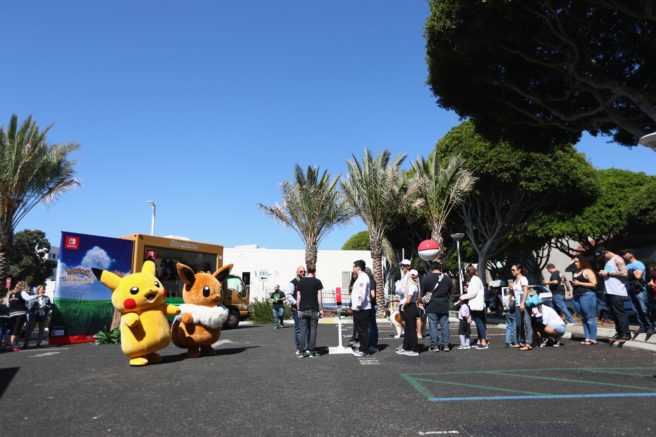 Nintendo and The Pokemon Company have announced a special opportunity to try out Pokemon: Let's Go, Pikachu / Eevee. Starting today in Los Angeles with multi-platinum recording artist, actress and Pokemon fan Jordin Sparks, fans will be able to play the upcoming games in select locations leading up to the November 16 launch.
Aside from a playable demo, the pop-up tour will feature Pikachu- and Eevee-themed trucks, fun photo opportunities, special giveaways (while supplies last), a chance to go hands-on with the Poke Ball Plus, and an exclusive Pokemon Snapchat filter. Pokemon GO players may even encounter a higher frequency of Pikachu and Eevee sightings near the events.
The Pokemon: Let's Go, Road Trip! will visit seven additional cities across the United States, culminating with a midnight launch event at Nintendo NY on the evening of November 15. The rest of the locations are as follows:
San Francisco, California
Oct. 6, 9 a.m.-6 p.m.
Seattle, Washington
Oct. 13, 9 a.m.-6 p.m.
Dallas, Texas
Oct. 20, 9 a.m.-6 p.m.
Topeka, Kansas
Oct. 27, 9 a.m.-6 p.m.
Chicago, Illinois
Nov. 3, 9 a.m.-6 p.m.
Boston, Massachusetts
Nov. 10, 9 a.m.-6 p.m.
New York, New York
Nov. 15
Source: Nintendo PR
Leave a Reply