Pokémon Shuffle weekly update features Magmortar and more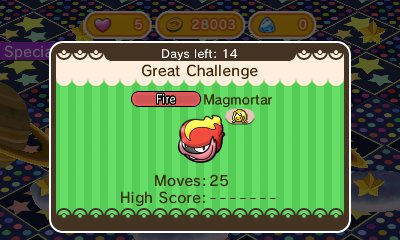 The usual Pokémon Shuffle update is upon us, and while there's only one new stage, the repeat runs are still notable. Four stages have been added to both the mobile and 3DS versions, all of which run until June 7th.
First up is the Magmortar stage, which is new and lets you catch Magmortar. The Ash-Greninja stage makes a return, as well, where players will face off against Ash's special Greninja from the anime. The legendary Kyogre also makes a return. Both of these stages let players earn Skill Boosters for their respective Pokémon once the Pokémon is captured. Finally, the Carnivine stage is returning. This stage is a Try 'em Items stage, which lets players try items out without using coins.
Good luck out there, champ in the making!
Leave a Reply