Pokken Tournament eShop page up – details, tentative file size, screenshots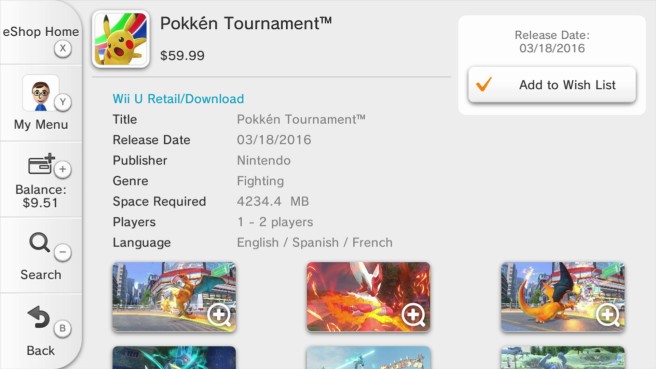 Wii U owners in North America can now view Pokken Tournament's eShop page. Some interesting details are included in the listing.
First, in terms of controllers, Nintendo says that the following options are supported:
– Wii U Pro Controller
– Wii Remote + Classic Controller Pro
– Wii Remote
– Wii Remote + Nunchuck
– Wii U GamePad
Regarding online play, players can expect the following:
– Online multiplayer
– Leaderboards
Of course, local multiplayer is included as well.
I'm usually hesitant to post about file sizes from the eShop given previous inaccuracies, but the listing says Pokken Tournament requires 4234.4MB for the download. If nothing else, it'll take up a few gigabytes.
Head past the break for the game overview. You'll also find some screenshots below.
Battle Pokemon live never before in all-new, action-packed arena fights! Perform vivid Pokemon movies in all their glory with button combinations through an intuitive fighting system to unleash devastating attacks upon your opponent to become the Pokken Tournament champion!

Learn various fighting styles of Pokemon such as Pikachu, Charizard, Lucario, and more. Any fan will be able to learn and execute signature Pokemon moves with a press of a button. Turn the tide of battle by calling upon support Pokemon to assist, and unleash devastating attacks to KO your opponent.

Battles await, and it's up to you to claim the title of Pokken Tournament champion!
Thanks to gamerguy412 for the tip.
Leave a Reply