Reflecting on The Game Awards 2022 (and all Switch announcements, awards) | Nintendo Everything Refresh Ep. 036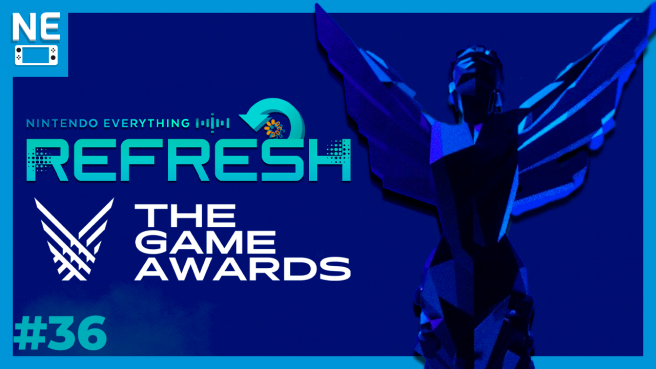 Between the announcements of Hades II, a Bayonetta prequel, a new Hellboy game and more, The Game Awards 2022 was filled with surprise reveals for the Switch! In this special episode of Nintendo Everything Refresh, join your hosts Nick, Nicolas and Dennis as they discuss the show in detail – not just the game reveals, but of course the awards themselves too! They'll also break down other big news from last week, including Call of Duty's return to Nintendo platforms.
Our podcast is available on most major streaming platforms, including Spotify, Apple Podcasts, Google Podcasts, Amazon Music and Audible, or you can check out the video version on YouTube.
Direct downloads are also available for free through our friends at ListenNotes. Have ideas or suggestions for the show, or want to submit a fan question or topic for a future episode? Let us know what you think – and thanks for listening!
➡ Inquiries/Fan Mail: [email protected]
➡ Visit the site: https://nintendoeverything.com
Episode Segments:
00:00 Intro
00:47 The Game Awards: overall impressions
05:39 Bayonetta Origins: Cereza and the Lost Demon
12:00 Fire Emblem: Engage expansion pass revealed
17:11 Mario Movie gets new clip
18:02 Hades 2 announced
21:57 Hellboy Web of Wyrd announced
24:37 Earthblade announced
28:12 Dead Cells x Castlevania DLC announced
29:49 Among Us gets new mode
30:42 Colossal Cave remake release date announced
32:31 The Awards that Nintendo won
47:03 Nintendo & Micorsoft sign 10-year Call of Duty agreement
54:16 Fire Emblem: Engage new trailer
58:08 Spongebob SquarePants: The Cosmic Shake
01:01:40 Kizuna AI: Touch the Beat Switch port
01:04:35 Recent releases
01:16:16 What we've been playing
Hosts:
Nick Serpa: @ndserpa
Dennis Gagliardotto: @LyonHart_
Luiz Estrella: @Luizestrella_
Nicolas Shadday: @Dayshade1999
Leave a Reply