Reggie on the social competitive scene and Smash Bros., wanting to keep things at a grassroots level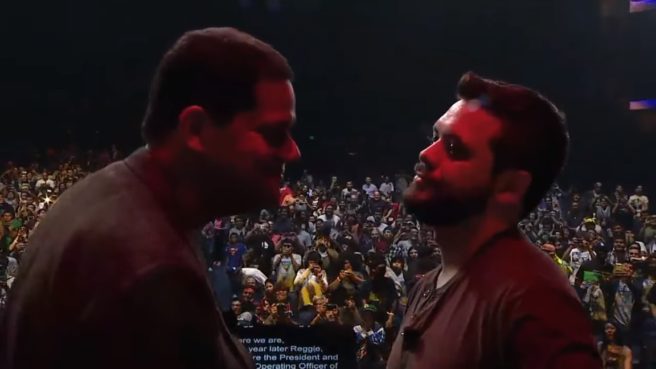 During a recent tournament, Juan "Hungrybox" Debiedma called Nintendo out with the following message:
"A certain company that acknowledges us but refuses to push us—I hope you're listening right now, because I want you to hear this. I want you to hear the amount of people who support this league, the amount of people who want this to be a lifestyle for people. This is not just a video game. This is a lifestyle! All right?"
At E3, Kotaku showed Nintendo of America president Reggie Fils-Aime this speech. Here's what he had to say in response:
"We've been in this social competitive space for a long time. Smash Bros. Melee has been a mainstay in the competitive gaming space for a long time. What we're doing—and our take on his space is we want to encourage the community. We want to enable them to put on tournaments and to have fun and for the players themselves to participate in these types of situations. That's our view of this space."

"Look, we love Hungrybox. We had him in our tournaments. There is a passion in the Smash Bros. community which is fantastic. When he talks about lack of support, I'm not quite sure what he's alluding to."

"I will say this. Five, six, seven years ago, as we engaged with our developers and talked to them about Smash Bros. and what was happening, there was not a lot of understanding about this space. And it's been people like [Nintendo of America's] Bill Trinen and JC Rodrigo and all of these folks who understand the space that have helped us educate our company and educate our developers around the benefits of engaging with the community and empowering and enabling this to happen.It was with the most recent Smash Bros. that we've done more tournaments and we're supporting both the Melee community as well as the Smash Bros. Wii U community and they're both vibrant and are continuing to grow."

"It's community-oriented. It's enabling the community to drive it forward. We have relationships, obviously, with entities like Evo and Battlefly. We want to do this much more at a grassroots level than others' visions around leagues and big up-front payments and things of that nature."
Kotaku has more on the story at the source link below, including additional comments from Hungrybox in which he clarifies remarks from his original speech.
Leave a Reply