Retailers list Yoshi's Land for Wii U
Update: Added in Future Shop's description and English link.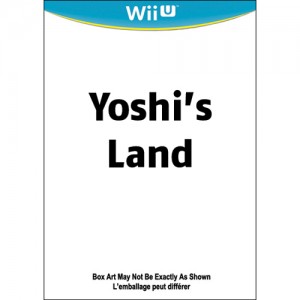 A couple of retailers are listing "Yoshi's Land" for release on Wii U. Entries were located on Future Shop's site, as well as on Best Buy Canada's.
I wouldn't get too worked up about these findings, but for what it's worth, Best Buy and Future Shop included the following blurbs about the "game":
"Take Yoshi on an epic adventure to remember in Yoshi Land for Nintendo Wii U. Check out Yoshi as you've never seen him before: in glorious high definition. Enjoy dual-screen control thanks to the Wii U Touchscreen GamePad, while you'll also be able to experience full integration with Nintendo's MiiVerse service." – Best Buy
"Join everyone's favourite dinosaur in his first big starring role on Nintendo Wii U – Yoshi's Land. Utilise the power of the Wii U Touchscreen GamePad to enjoy dual-screen fun in this epic adventure with stunning HD graphics and connectivity with the MiiVerse." – Future Shop
I get the feeling that the person/people responsible for these listings simply took some inspiration from the Miiverse mockup menu leak. But a man can dream!
Leave a Reply