Rocket League update out now (version 1.1.2 / 1.53)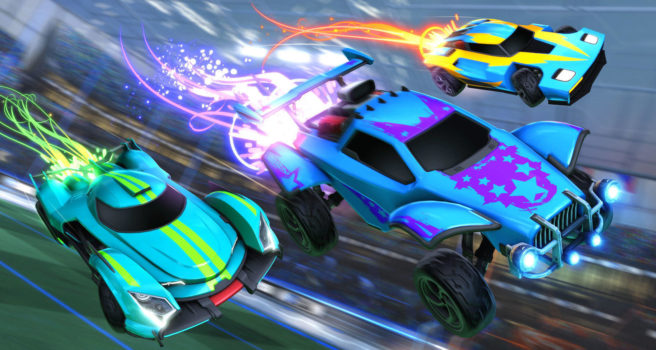 Rocket League's next update has gone live on Switch. This is known as version 1.53, but will show as version 1.1.2 on your system.
Today's update features new Hot Wheels content, the start of Competitive Season 9, and more. We have the full patch notes below.
THE HEADLINES

'Hot Wheels Rivals Arena' is now available in Casual Playlists, Tournaments, Private Matches and Offline Matches
Competitive Season 8 has ended
Season 8 Rewards (Rocket Boosts) are now available to eligible players
Competitive Season 9 has begun
The complete 'Monstercat x Rocket League Vol. 4' EP is now available as a music playlist

NEW CONTENT

'Hot Wheels Rivals' is now available as a playable Arena in Casual Playlists, Tournaments, Private Matches and Offline Matches

'Hot Wheels 50th' Flag

'Hot Wheels 50th' Player Banner

'Hot Wheels 50th' Wheels

Monstercat

The complete 'Monstercat x Rocket League Vol. 4' EP is now available as a music playlist

'Monstercat' Topper is now available

New Monstercat Flags have been added

'Muzzy'

'Infected Mushroom'

'Darren Styles'

'Gammer'

'Dougal'

'Tokyo Machine'

'Bossfight'

'Pixel Terror'

'Sara Skinner'

CHANGES AND UPDATES

Competitive Season 8

Competitive Season 8 has ended. Titles and items will be awarded for your highest rank achieved during the season. Season 8 Rewards are custom, non-tradeable Rocket Boosts

Receiving Season 8 Rewards is also contingent upon successful completion of Season Reward Levels

Reward Rocket Boosts:

Bronze I or higher – 'Season 8 – Bronze' Rocket Boost

Silver I or higher – 'Season 8 – Silver' Rocket Boost + lower Rocket Boosts

Gold I or higher – 'Season 8 – Gold' Rocket Boost + lower Rocket Boosts

Platinum I or higher – 'Season 8 – Platinum' Rocket Boost + lower Rocket Boosts

Diamond I or higher – 'Season 8 – Diamond' Rocket Boost + lower Rocket Boosts

Champion I or higher – 'Season 8 – Champion' Rocket Boost + lower Rocket Boosts

Grand Champion – 'Season 8 Grand Champion' in-game Title + all Season 8 Rocket Boosts

Competitive Season 9

Competitive Season 9 has begun

Season 9 brings a "soft reset" that requires you to do placement matches in each playlist to recalibrate

Winning half of your placement matches will land you near your previous season ranking

League Rankings will be temporarily empty until players complete their placement matches

Ranked Extra Modes

Ranked Playlists for 3v3 Dropshot, 2v2 Hoops, 3v3 Rumble and 3v3 Snow Day are now available under the Extra Modes tab in the Playlist Menu

You will have a unique MMR for each Playlist

You will be required to complete ten placement matches before obtaining a Rank in each Playlist

All Ranked Extra Mode Playlists will contribute to your Season Reward Level

Extra Modes have been removed from the Casual Playlist tab

You will have the option to hide your Rank in the new Ranked Extra Modes Playlists

Ranked Extra Modes will not have leaderboards for Season 9

Progression

The post-match XP screen has been shortened and can now be skipped, bringing you right to the End Match screen and lobby

Consecutive Match Bonus has been increased from 50 XP to 200 XP

Weekly Win Bonus has been changed from a multiplier to a flat amount of 2,500 XP per eligible win

General

Discord button has been added to the News Panel

Clicking this button will minimize Rocket League and take you to discord.gg/rocketleague, where you can join the official Rocket League Discord server

BUG FIXES

General

Fixed issue where focus could be lost when closing party chat panel with controller

Details window now appears in trades with only one item

Older Replays recorded on Farmstead no longer crash the client

Fixed a bug with bot behavior related to air dodge, rolling and ball strikes

'Best of the Bunch,' 'Squad Goals,' 'New Challenger' and 'Together is Better' Achievements/Trophies now work as intended

Club invites no longer block a player's view while trading

Checking the 'Friends Only' League Rankings now shows all friends

KNOWN ISSUES

RLCS Fan Rewards Decals may not show all details in the trade window

'Megabat' Decal may cover trim on Painted Car Bodies

Some Competitive pop-up messages may not reference Ranked Extra Modes when they are supposed to

Titanium White and Grey 'Binary' Painted Trails may look similar

During a trade, selecting, removing and re-selecting an item from an inventory stack may cause the check mark to disappear

[Switch] Removing and re-adding a splitscreen user to the party will hide the first player in the party roster
Leave a Reply