Rockstar Games announces new version of L.A. Noire for Switch, out on November 14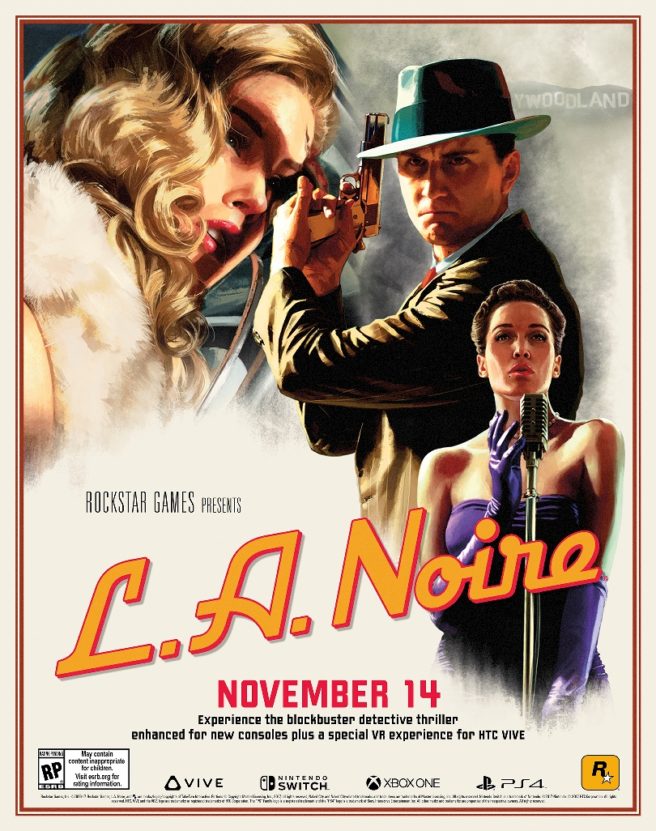 L.A. Noire is coming to Switch, Rockstar Games has announced. System owners will be able to purchase the game on November 14. L.A. Noire originally debuted in 2011.
Here's an overview:
L.A. Noire takes place in the seedy and violent underbelly of 1940's Los Angeles as decorated veteran and newly minted detective, Cole Phelps investigates an escalating series of cases inspired by real-world crimes. Each successfully solved case brings Phelps greater success, but also brings him closer to the dark criminal heart of post-war L.A. The game was an Official Selection of the Tribeca Film Festival for its cinematic approach to gameplay and narrative.

Utilizing a unique type of facial capture technology called MotionScan, L.A. Noire breathes unprecedented life into character performances, creating brand new gameplay out of the art of interrogation.
L.A. Noire for Switch includes the complete original game and all additional DLC. Also included is a Joy-Con mode with gyroscopic and gesture-based controls, HD Rumble, new wide and over-the-shoulder camera angles, and contextual touch screen controls for portable detective work.
Source: Rockstar PR
Leave a Reply