Rumor: 2016 Super Nintendo World concept models surface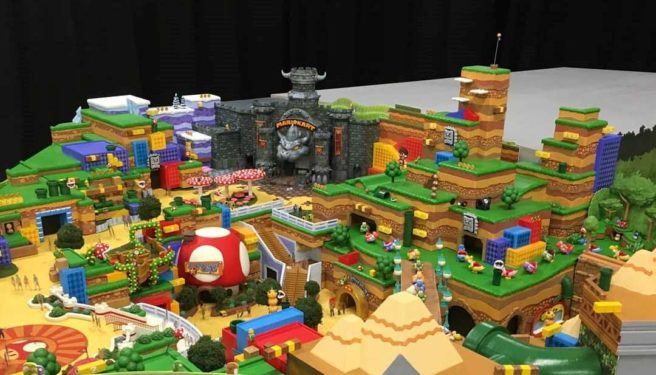 Earlier today, the Unofficial Universal Orlando Podcast shared photos of what appear to be concept models for Super Nintendo World. They were apparently dated from 2016. Orlando ParkStop believes the photos are legitimate based on what it has heard of upcoming plans.
Here are some of the highlights from the photos:
– Guests enter through a facade of Bowser's Castle
– The sign merely says "Mario Kart"
– Quick service location is "Toadstool Cafe" located on the lower level
– The family omnimover ride appears to be named "Yoshi's Adventure"
– Donkey Kong Country shown, which guests would access through a warp pipe located under the Yoshi ride
– Model of Funky Kong's plane shown, which is used as an outdoor gift shop
– Donkey Kong's treehouse is the backdrop for a meet and greet stage
– There are interactive characters along the main path as well, like Rambi the rhino
– Main roller coaster attraction
– The Donkey Kong coaster, called "Mine-Cart Madness" in the model, would be partially outside as well as feature inside scenes
– The main entrance is a temple, with the mine cart jumping the track right at the top of the temple, above an integrated waterfall feature
We've included photos of the Super Nintendo World concept models below.
Leave a Reply