Sakurai reflects on Smash Bros. Ultimate's 3.0.0 update, shelving ideas, sharing features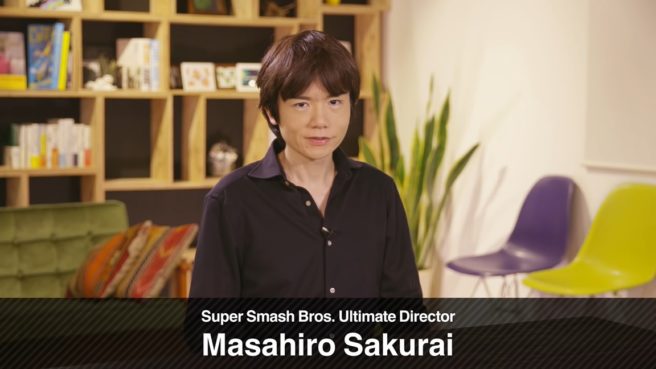 Super Smash Bros. director Masahiro Sakurai returned to Famitsu this week with one of his regular columns. Some of his recent pieces shied away from Ultimate, but Sakurai wrote about the Switch game again for his latest entry.
Sakurai reflected on the making of Smash Bros. Ultimate's 3.0.0 update in his latest column. Additionally, he spoke about having to shelve ideas relating to cooperation gameplay as well as the new sharing features in the game.
Here's our full translation:
Golden Week has already come and gone and we've now transitioned into the Reiwa Period… Or at least I assume that's the case, since I'm actually writing this before the beginning of Golden Week. As for Smash Bros Ultimate, I'm writing this immediately after the release of the Ver. 3.0.0 patch. So for those reading, please forgive some of this sounding a little dated.

First up, I'm glad the response to the release of Persona 5's Joker as a character has been so positive. There were still kinks that we needed to iron out, but there were plenty of people who were very happy with the presentation. I think working hard on all those different battle strategies really paid off. If players can enjoy playing as the character, that's all that matters to us. And still on the topic of Smash, our concept of 'sharing' has finally come into place. From the stage creator to the Mii Fighters and even the video editing capabilities, Smash Bros. Ultimate has become a game where everyone can access user-created content. Making this happen has taken a lot of implementation and many working hours, with debugging also necessary at each step, which did mean the project ended up being pushed back well beyond the release of the game. Everyone on the team still continues to work hard though.

For me personally, I don't want the battles to become ones where the winner and loser are forced in separate categories, and where only the winner can enjoy that fight. Of course, this is a game based on competition, but I don't want that victory and defeat mentality to hamper anyone's enjoyment of the game. While keeping in mind the type of game we have, the question was always: What do we need to do to make things more fun? This was one of the first points we hit upon. For this title, the truth is that I would have liked development to fall into three phases: Competition, Sharing and Cooperation. That last part, 'cooperation', unfortunately ended up being shelved part-way through. We had lots of ideas and even began working on some of them, but getting to the point where we could have four human players and four CPUs competing online was difficult enough in itself, and we just couldn't do it. We managed to make it so that four players could battle online with Spirits, but that was our limit. I have regrets, but it's also important to put those failures behind you.

But we were able to make that 'sharing' component a reality. We're still in the early stages, but many of the things users have created have left me impressed. Even today we had a test battle at lunchtime and I downloaded a few of the user-created stages that took my fancy. That was really fun. Playing around with the stage formula can lead to many in-game accidents, and that's really refreshing to see. Some of them had us laughing our heads off. While there are plenty of stages that don't lend themselves to a fair fight, they definitely suit those more raucous play sessions. For those stages where there isn't any way to knock your opponent off, I guess your only choice is a stamina battle…

While the replay editing mode still looks a little rough around the edges, I still expect to see lots of interesting videos from players of all levels. I wonder if people realize how unprecedented it is to have this kind of editing tool in one of our games. While we call it UGC (User Generated Content), the truth is that the term is more nuanced than simply unrestricted content users create. Just allowing the user to do whatever they like doesn't always work. Also, for example, the reason for the one-line limit of text in edited videos is not a tech limitation but a problem of adherence to regulation. Sometimes words can cause difficulties. So the main thing for me is that players can enjoy our game while we continue to adhere to those public order rules and regulations. The reason we are able to open up the playing field to users is exactly because of that independent spirit. I look forward to seeing that endless potential for myself as part of our 'sharing' phase.
---
Translation by provided by Corks on behalf of Nintendo Everything
If you use any of this translation, please be sure to source Nintendo Everything. Do not copy its full contents.
Leave a Reply