Slam Land out for Switch on August 7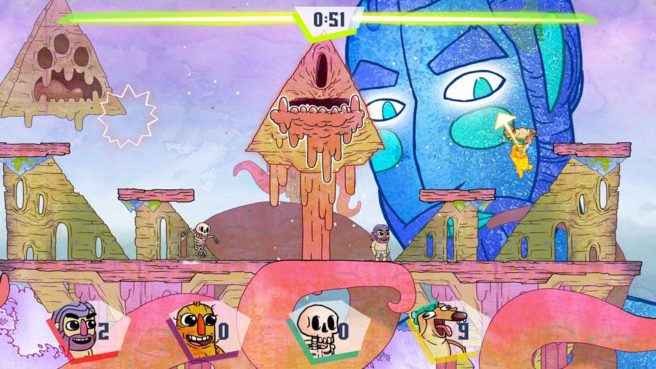 Bread Machine Games has announced that the surreal competitive party game Bread Machine Games is in the works for Switch. The studio will have its game ready to go next month.
Here's an overview for Slam Land, along with a trailer:
Easy to pick up but with depth to match, Slam Land is a fast-paced, chaotic experience where a bizarre blue giant enlists a cast of comical competitors to dunk one another into hoops for his amusement. So, (literally) grab up to four friends and face off in local multiplayer matches where opponents must grapple, lunging at and dodging away from each other as they vie to seize and shoot their adversaries into a variety of bizarre goals ranging from tree hollows to gaping maws.

Alongside these "Slam" matches, where players race against the clock to score the most points or outlast each other in stock contests, Slam Land sports a variety of additional game types to ensure things always stay fresh. These include the hot potato-like "Peanut Mode," where scores become more valuable the longer players hold on to the titular peanut. Slam Land also features a distinctive take on the classic basketball activity "H.O.R.S.E.," where lettered NPCs spawn and players shoot them to fill out the word. And then there's the wildest mode of all, "Trash," which sees garbage rain from the sky that can be stacked into massive piles and dunked.

Propelled by a percussive, energetic soundtrack and a playful hand-drawn cartoon art style, Slam Land is a joyful and energetic experience that will have friends laughing and screaming no matter which whimsical game type they find themselves clashing in.
Slam Land launches for Switch on August 7 via the eShop. Pricing is set at $7.99 / €7.99.
Source: Bread Machine Games PR
Leave a Reply