Splatoon 2 – official introductions for weapons, characters, and more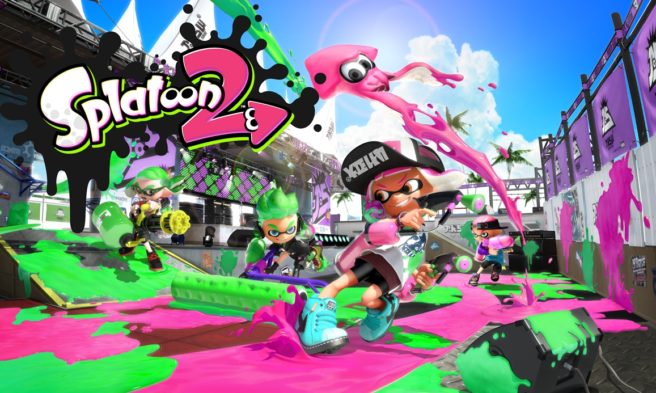 The Splatoon 2 Tumblr has seen the additions of a number of new entries as of late. Nintendo has been covering weapons, characters, and more. We've rounded up everything below.
New weapons are in development. Say hello to the Brella! Much like an Umbrella, it offers both beauty and functionality. Press and hold the ZR button to open it up and block enemy attacks. If you continue to hold down the button…you can even launch it forward! Of course, once launched, you won't be able to open it for a while, so use it wisely.

It appears this weapon type will be ready for Turf War battles in an update after the game launches.

This Jellyfish gentleman goes by the name Jelfonzo, and he runs Ye Olde Cloth Shoppe. And check out his origin story: one day he just split off of Jelonzo in Inkopolis Plaza, and there he was! I think that makes him Jelonzo's son? He apparently learned to speak Inkling from an ancient text of some sort, so his speech sounds a bit outdated (to say the least). But don't let that fool you. When it comes to fashion, this dapper dude is always up on the hottest trends.

Hey, it's Bisk the spider crab! He's also the proud proprietor of Inkopolis Square's premier shoe shop, Shella Fresh. His many long limbs welcome customers one and all, and he exudes the type of laid-back cool you just can't teach.

We're proud to reveal our findings on the Goo Tuber, a charger with the upgraded ability to store your charge even longer. Intel from Sheldon is that it offers high-pressure ink storage for extended periods, allowing you to stay submerged while you wait for the perfect shot! In exchange, it takes a bit longer to charge, but you can push your foes back with the Suction Bombs sub. You can stay on the move with one in the chamber, and when the enemy decides to close in, make 'em pay with a Splashdown surprise!

These lovely ladies are the rising stars who've been burning up the Inkling music charts, Off the Hook! First you've got Pearl, the cute and sassy MC with a talent for spitting fire lyrics.Then you've got Marina, the dazzling DJ genius rocking beats on the wheels of steel. Fans love them for their unique, futuristic sound, but they're also making quite the name for themselves as the new broadcasters of Inkopolis News!

Baller! Yes, this is a new special weapon called the Baller! Roll around the stage in an oversized hamster ball that protects you from a certain amount of damage. If you hold down ZR, the ball will fill with ink, eventually causing an explosion on the spot.

You know how blasters tend to have a low rate of fire? Not the Clash Blaster! Its speedy shots are great for keeping foes at bay! Damage output has been decreased to allow improved rapid fire, but Splat Bombs can help you take it to your foes in a major way. Opponents keeping their distance? Reach out and boop 'em with the Sting Ray! This set is for players that like causing chaos on the front lines.

The Dapple Dualies are dualie-type weapons that have been engineered for optimum mobility. They're lighter than standard Splat Dualies, allowing for faster movement, but they have less range. It's a trade-off. Utilize the increased mobility to set Squid Beakons around the map, and call your teammates to the front lines! And use the Suction-Bomb Launcher to further expand your team's territory. Sheldon recommends this set for players who want to swiftly splat their opponents and support their team.

The Bomb Launcher special allows you to launch bombs without consuming any ink. The longer a player holds the R button, the farther the bomb will travel. They also come in different varieties: Splat-Bomb Launcher, Curling-Bomb Launcher, Autobomb Launcher, etc. We also discovered that this special doesn't necessarily tie to your kit's sub weapon, meaning you might discover a kit with Suction Bomb sub and Curling-Bomb Launcher special, for example.

Ink Armor grants each member of your team armor that nullifies damage from a single attack. It works on all team members regardless of proximity. The effect lasts for a limited time, but we imagine this special will be useful for laying pressure on opponents.

We all know Inklings love to grab a bite at Crusty Sean's new food-truck venture, the aptly named Crust Bucket. Chow down on these deep-fried snacks and you'll get more cash and experience from battles. However, it seems the only currency that Sean accepts is "tickets" which can be earned in Octo Canyon or Salmon Run.
Leave a Reply