Suda51 says he's wanted to make No More Heroes 3 for awhile, Travis Strikes Again sales met expectations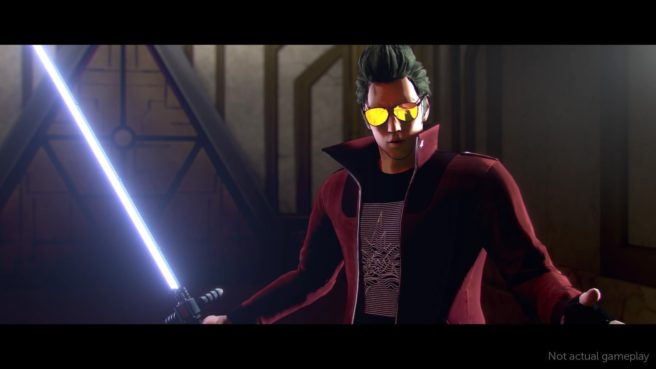 No More Heroes had a pair of games on Wii before the series went on hiatus for many years. The franchise finally returned with Travis Strikes Again, but we're now getting a true third entry with No More Heroes 3 in 2020.
Director Suda51 spoke about the whole process of making No More Heroes 3 in an interview with Game Informer. He brought up wanting to make the project for awhile, the fact that developing Travis Strikes Again helped the team become familiar with Unreal Engine 4, and more.
Below are Suda51's full words:
I mean, it's been something that I've been wanting to work on for a long time. There's been stuff that we've been working on over the years, and then it's kind of gotten away. We didn't really have the right inspiration for it. But a few years ago, I decided, "Okay, I want to make this game, Travis Strikes Again. And part of it was because I wanted to sort of explore a different facet of the whole like Travis and No More Heroes lore. And another reason we made the game was sort of a commemorative thing, for Grasshopper's 20th anniversary.

So first, you know, I decided do Travis Strikes Again: No More Heroes (TSA) for a commemorative-type thing, see how that works out. So we decided to put together a completely new team for that game. The core team was sort of a real mix of old veterans and newly-hired staff, people who are new in the industry altogether. And once we put that team together and started working on the game, and realized pretty early on, "Okay, this team's actually working out pretty well. I think we can maybe make something cool," I really got to focus as much of my energy on that as possible.

And then once TSA was released, and we saw the reactions from the fans and got lots of different opinions and feedback on it, I thought "Okay, now that we not only have, you know, the fan base is still wanting No More Heroes III, we've also got a lot more kind of scale of our abilities a lot more skills under our belts now.

And we've learned about working on Unreal, for the different new mechanics and stuff we put into TSA, there's lots of new things that, as a team, we had learned and experienced that I felt finally sort of pushed us over the edge. We're now ready to go back to No More Heroes III with the same core team again, and be able to create and provide the kind of game that the fans deserve and the fans of want to play.

So again, yeah, to kind of put it simply It was something I'd been wanting to work on for a long time, but with all the experience we now had, I also figured "Okay, we're finally ready."
As for Travis Strikes Again and how the game sold, Suda51 said it's "pretty much just in line with what we were expecting, or more like what we were hoping for."
Leave a Reply