Super Hydorah coming to Switch this week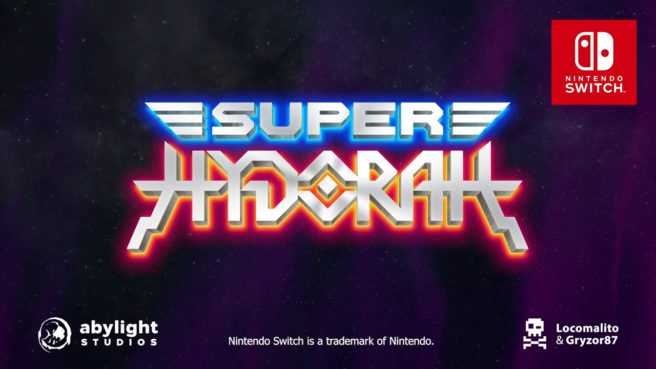 Abylight will be publishing Super Hydorah on Switch in just a couple of days, the company announced today. A release is planned for November 15.
Super Hydorah is a horizontal shoot 'em up. Here's a brief introduction, along with a trailer:
An evil force has launched an invasion over the Omios star. Only you, the most skilled and deadly pilot in the galaxy, can face the dreadful menace of the Meroptians, bio-mechanical creatures set in a ruthless war of conquest. Equip your ship, select a route and fight planet by planet against the hordes of Meroptians!

Super Hydorah is a nonlinear horizontal shoot' em up designed to offer a challenging and memorable experience, sublimating the wisdom and richness of traditional shmup classics. The game has direct action, nostalgic art and a wide variety of unique spatial content and situations. It is hours of intense fun, alone or with your friends, to face the menace of the Meroptians aboard the Delta Lance.

– Easy to learn, damn hard to master!
– 21 levels divided into 35 sublevels, 35 bosses and more than 100 enemies
– Single player, Co-op multiplayer and Robot Chase spin-off mode
– Non-linear level layout with route selection
– Dangers of different nature in each level (not just bullets)
– Weapon selection and power-ups in every mission
– Original soundtrack with 60+ tracks
– Secrets, multiple endings, achievements and rank system
– CRT Monitor effect
And the news specifically about Switch:
Join forces with your friends using the Nintendo Switch Joy-Cons (Local Multiplayer Co-op Mode) or play as a lone wolf (Single Player Mode) to make the most famous space pirate words yours:

Are you reckless enough to jump in? Here you have some of the new features coming to the Nintendo Switch version:

– Running at 60fps in both docked and handheld mode.
– Selection skill mode.
– Support for 9 languages: English, Spanish, French, German, Italian, Russian, Turkish, Japanese, and Chinese
– New aesthetic changes and more refinements.
– New boss life bar
Super Hydorah will cost $15.99 on Switch.
Thanks to James B for the tip.
Leave a Reply