Swords & Soldiers II Shawarmageddon announced for Switch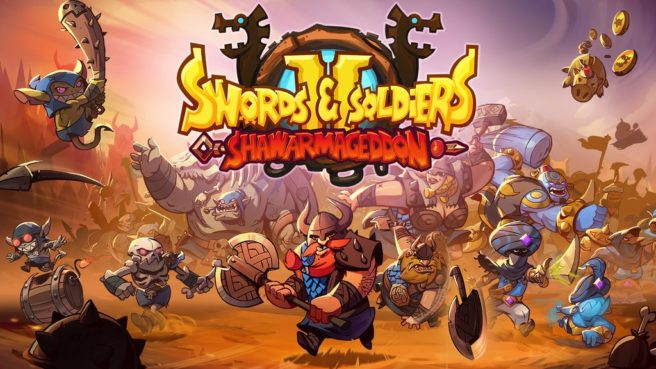 The Wii U title Swords & Soldiers II is making a return on Switch, Ronimo Games has announced. Engine Software has been brought in to port the new version, titled Swords & Soldiers II Shawarmageddon, to Nintendo's latest console.
For those who missed the game originally, Swords & Soldiers II Shawarmageddon is a side-scrolling real-time strategy game. Continue on below for more information and a trailer.
Side-scrolling RTS is back! Swords & Soldiers 2 Shawaramageddon lets you command the Vikings, Demons, and Persian armies. You can take on the campaign or face off against other players in online multiplayer and challenge your friends in custom battles!

Gather gold and mana, send out armies, and support your forces with a wide arsenal of magical spells – all from a side-scrolling perspective. That doesn't mean Swords & Soldiers 2 Shawarmageddon is easy to master: only the most cunning of Chiefs can lead their side to victory! Think you're ready to face the hordes of evil? Prove it in online matchmaking!

– Fresh gameplay – Offering a unique and action-packed take on the strategy genre, this game packs a punch!
– Online Multiplayer – Command your armies, adapt to your opponents, and execute your perfected counter-strategies! Take on the world in online 1v1 multiplayer and climb the leaderboards!
– Extensive single-player campaign – Follow the adventures of Redbeard the Viking fighting as he travels from the Persian deserts to the depths of hell!
– All across the world – Face off while commanding the Viking legion, an army of carpet-riding Persians, or brutish Demons! Each faction features unique tech trees with units, spells, and resource-mechanics!
– Build it your way! – Use the Custom Army feature to conscript an army consisting of your favorite units and spells, and pit them against your friends in a custom game!
– Up for a challenge? – Think you got what it takes? Every campaign mission features a time challenge and bonus objective that will force you to try out new strategies and think on your feet.
– Enlist mighty champions – A wise man once said "When the going gets tough, buy hero units!" Not only do these super units pack a mighty punch on the battlefield, each one of them also offers their own special ability!
– Play while matchmaking – Nobody likes waiting, so we made sure you never have to! You can enter matchmaking while battling it out against the AI in Skirmish or going for a high score in the minigames, and will return to where you left off when your multiplayer match has ended.
Leave a Reply