Azure Striker Gunvolt launched in Japan last night, and it came with a little bonus. Those who pick up the game through mid-November can download Mighty Gunvolt at no extra cost.
It turns out that this offer is now being extended to North America as well. The English Azure Striker Gunvolt Twitter account confirmed a few minutes ago:
: happy to announce anyone who buys Gunvolt (in 1st 3 mnths) will also get the 8-bit NES-style retro-demake 3DS romp #MightyGunvolt, free! :

— Gunvolt Official EN (@GunvoltGame) August 20, 2014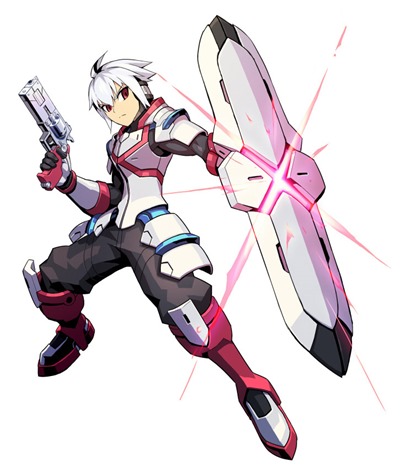 New details have come in about the rival character in Azure Striker Gunvolt, who goes by the name Acura / Copen.
Here's the latest about the character:
– Dubbed "the Psychic Slayer"
– Has a deep hated for Psychics and the Sumeragi group
– He's dedicated to eradicating psychics
– Copen believes Psychics are a threat if left unchecked and will eventually subjugate anyone that doesn't have their powers
– As such, he's made it his mission to destroy them
– He has no powers of his own, but his scientific mind is on par with Sumeragi's best scientists
– Copen is a highly skilled fighter as well
– Using Psychic Element samples that he has stolen and analyzed, Copen has created equipment that can replicate Psychic powers
– When you face him, he will use powers that he has replicated from the game's Psychic bosses
– Lazy Laser: Copen fires a giant laser that continues going after Gunvolt by passing through a series of wormholes; based on the psychic elements of Merak
– Arrogant Radiance: Copen switches his shield to attack mode and fires at Gunvolt with a giant laser beam and photo guns; based on Iota
– Blazing Bombers: Copen fires rapid balls of energy that explode as they charge forward; based on the psychic elements of Viper
– Power Grab: Copen fires three special shots that temporarily freeze Gunvolt's abilities; based on the psychic elements of Carrera
– Gorgon's Gaze: Copen fires a special beam of light that paralyzes all in its path; based on the psychic elements of Elise
– Flesh Eater: Numerous flies chase Gunvolt around the screen; based on the psychic elements of Stratos
– Multiplicity: Copen's Special Ability allows him to produce several doppelgangers that all charge at Gunvolt at once; based on the psychic elements of Zonda
A North American release date for Azure Striker Gunvolt has been announced by Inti Creates. The game will be available on August 29. Pricing is set at $14.99.
Proud to announce #Gunvolt's North American 3DS eShop release date: Friday, Aug.29, $14.99! 2D action at its finest! https://t.co/uJZKTWrpRy

— Gunvolt Official EN (@GunvoltGame) August 14, 2014
The latest Azure Striker Gunvolt update comes from Famitsu, who introduces rival character Acura.
Acura is "a psychic hunter who does not belong to any faction, but harbors a strong hatred towards the Sumeragi Group psychics. While he does not possess any psychic powers of his own, he is able to steal and analyze the psychic power factors of other psychics. He wields a weapon that mimics such powers and stands in Gunvolt's way."
Screenshots of Acura can be found above.