Update: Clarification. This reward originally appeared in 2011, but has been unavailable for a significant period of time.
Original:
Club Nintendo has added a new selection of posters. For 400 coins, members can obtain a set of three featuring Donkey Kong. You can place an order right here.
As many had speculated, Nintendo brought along Donkey Kong Country: Tropical Freeze to VGX 2013. Two pieces of news were shared: a confirmation of Cranky Kong as the fourth playable character and February 21 release date.
The following information was also shared during a live demo:
– Cranky has a lot of personality
– Cranky uses his cane to jump around
– Crane bounce: jump across spike pits
– None of the other characters can do this
– Cranky's Kong Pow: turns all enemies on screen into coins
Nintendo of America president Reggie Fils-Aime also shared the following tidbits:
– Reggie wants to see another Metroid
– Says PS4 and Xbox One are a good thing for Nintendo and the overall industry
– 3D World doing "quite well"
– Says Nintendo has some of the top rated games, can't play them on other systems
– Reggie loves the memes fans have created of him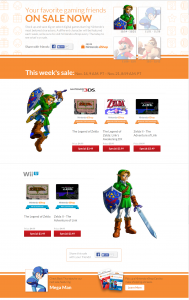 Nintendo will be kicking off a wave of character sales on the 3DS and Wii U eShops tomorrow. Zelda titles will be discounted through November 21, followed by Mega Man on November 21, Mario on November 28, and Donkey Kong on December 12.
At least in the eyes of one Nintendo staffer, Donkey Kong Country: Tropical Freeze won't be as tough as New Super Luigi U. Nintendo of Canada's Matt Ryan was asked about which of the two he believes is more difficult based on his experience observing Treehouse play both titles. In his view, New Super Luigi U does indeed offer more of a challenge.