Yesterday, a Kickstarter launched for "Night Trap ReVamped". Night Trap, LLC opened the campaign in hopes of bringing back the classic game in a high-definition format.
Night Trap ReVamped is planned for a bunch of platforms like PlayStation, Xbox, PC, and Mac… but no release on Nintendo platforms is planned.
A console like Wii U could certainly handle Night Trap ReVamped from a technical standpoint. However, the game's developers explained on Kickstarter that it won't be coming to Nintendo platforms due to "bad blood" with the Big N that was created two decades ago.
Check out the explanation in full below:
Tic Toc Games will be rebooting its Adventures of Pip Kickstarter later this month. The developer confirmed on Twitter a few minutes ago that a new campaign will go live in sixteen days.
Tic Toc wrote:
Wow 16 days till the @kickstarter reboot for #adventuresofpip! So much still to do!

— Tic Toc Games (@TicTocGames) August 4, 2014
Adventures of Pip originally hit Kickstarter in May. Unfortunately, the campaign fell well shy of its $100,000 goal having raised only $35,510.
Aegis Defenders, a new 16-bit tactical platformer from GUTS Department, has a chance of coming to Wii U. The game's Kickstarter will need to hit $150,000 for this to happen.
Although raising such a high amount may seem unrealistic, Aegis Defenders' Kickstarter did manage to collect nearly $40,000 in its first day. There's also over a month remaining in the campaign.
You can check out Aegis Defenders on Kickstarter here.
In light of yesterday's news about the suspension of Areal's Kickstarter campaign, West Games has issued a statement about the situation. You'll find it in full below, which also reveals a new PayPal-centric campaign set up on the company's own website. I suppose this saga won't be ending anytime soon!
Areal's Kickstarter campaign has just taken a new turn for the worse. All funding for the game has been suspended, and it sounds like pledges are starting to be cancelled.
A message sent to backers states, "A review of the project uncovered evidence that it broke Kickstarter's rules."
Here's the message in full:
The Deer God met its Kickstarter funding goal last week. However, just a few hours ago, the campaign's donations hit $40,000. This means that a Wii U version of The Deer God will now be made a reality.
A $55,000 3DS stretch goal was announced last week, but is unlikely to be met with just over a day remaining in the campaign.
As far as the game itself is concerned, The Deer God is a platformer "about survival, reincarnation, and karma, all set in a breathtaking and unique 3D pixelized world." It's targeted for launch in 2015.
Check out the official Kickstarter page for The Deer God here.
Areal, West Games' spiritual successor to S.T.A.L.K.E.R., has reached its goal on Kickstarter. The campaign flied passed the $50,000 target over the weekend – raising an extra $12,000 in the process – despite the addition of only two new backers.
The oddities don't end there, strangely enough. On Saturday, West Games shared a typed and signed letter it had received from someone claiming to be Russian president Vladimir Putin.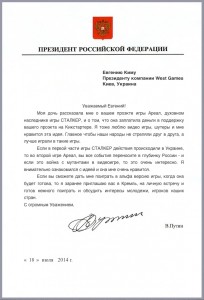 West Games said of the letter:
"We thought at first that there's no way that this is legit, because we are a Ukrainian studio for the most part, and it's probably the usual trolls trying to deceive us, but then when we looked at it closely, we started thinking that it might be real."
Last month, Lunar Ray Games opened a Kickstarter for "Timespinner". The indie developer hoped to raise enough funds to bring its Metroidvania game to life.
With just a few days remaining in the campaign, Timespinner ended up reaching its goal. Just over $122,000 has been raised thus far, and the Kickstarter has surpassed a $115,000 3DS stretch goal in the process.
You can find a whole lot more about Timespinner on the official Kickstarter page here.
Epic Minds' 2D action-adventure title Midora is coming to both Wii U and 3DS following a successful campaign on Kickstarter. Earlier today, the total amount raised surpassed $60,000, which was the project's goal.
Midora's Kickstarter does have platform-specific stretch goals (including a $80,000 goal for Wii U/3DS), though they are unlikely to be met as less than two days remain the crowdfunding campaign. However, Epic Minds has already confirmed that not reaching these goals shouldn't cause any issues. Not hitting them simply means that Midora will be brought to additional platforms slightly later.
You can find Midora on Kickstarter here.
Moon Chronicles is only on 3DS at the moment. But perhaps that could change with a Kickstarter campaign.
While the studio was burned by its Kickstarter efforts for Cult County, Renegade Kid co-founder Jools Watsham asked fans on Twitter today about potential games they'd like to see take the crowdfunding approach. This led to the idea of a Kickstarter campaign for Moon Chronicles on Wii U, which Watsham finds "interesting".
He said on Twitter:
I'm not in a hurry to do another kickstarter, but if we did, what would you guys like to see us kickstart? Can't do Dementium. Please RT.

— Jools Watsham (@JoolsWatsham) July 11, 2014
We have had quite a few requests for Moon Chronicles on Wii U as a kickstarter campaign. Interesting! Anyone else like this idea?

— Jools Watsham (@JoolsWatsham) July 11, 2014