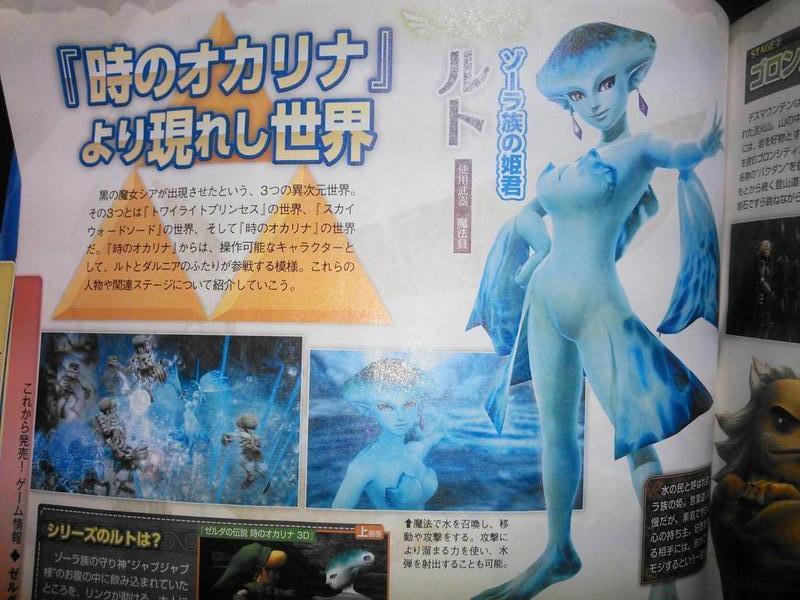 A new scan from Famitsu gives us a first look at Princess Ruto in Hyrule Warriors. You'll find it above.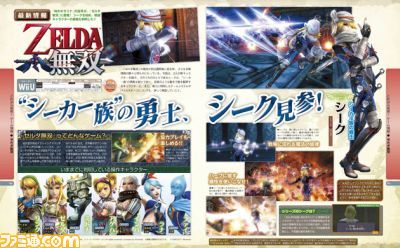 Three new characters for Hyrule Warriors have been confirmed by Famitsu. Sheik will be in the game, as well as Darunia and Princess Ruto from The Legend of Zelda: Ocarina of Time.
Famitsu also has news about new weapons for Lana and Impa as well as news about collecting gold Skullattas. More information is included in an eight-page feature in this week's magazine.
Team Ninja shared a neat tidbit about Fatal Frame: The Black Haired Shrine Maiden on Twitter late last week. Following the Wii U game's announcement, the studio said that it makes use of some tech from Dead or Alive 5.
A translation of the tweet reads:
"While you may have noticed after watching the video, the latest Fatal Frame game that was announced the other day uses some technology from Dead or Alive 5!"
What sort of tech Team Ninja was referring to is unknown at this time.
Koei Tecmo will announce another new character for Hyrule Warriors this week, according to the game's official Twitter account. While not technically confirmed, the tweet seems to hint at a Goron being playable. A reveal will likely come in this week's issue of Famitsu – expect to hear something within the next couple of days.
Seven playable characters have been confirmed for Hyrule Warriors thus far. Link, Zelda, Impa, Midna, Lana, Agitha, and Fi are on the roster.
They don't have any audio, but you can find a few additional cips from Fatal Frame: The Black Haired Shrine Maiden above (no audio). The game's website is located here.
Nintendo and Koei Tecmo released the first screenshots from the new Fatal Frame. You'll find them all in the gallery below.
Update: Added high-quality version.
---
Fatal Frame Wii U (Fatal Frame: The Black Haired Shrine Maiden) will be released in Japan on September 27. We've added in the debut trailer captured from today's presentation above, though a high-quality version should be available shortly. You can find a bunch of details about the new Fatal Frame here.
Update: Over.
---
The Fatal Frame presentation is currently in progress. We're expecting to hear about the new Wii U game as well as other media projects in the series.
Tidbits shared at the event can be found below…
Introduction
– Starting off with an overview of all the various projects they got going. Manga, books, etc.
– Shigeru Miyamoto takes the stage for an opening word or two
– Miyamoto says he doesn't like scary things except for Luigi's Mansion
– What he's seen from Fatal Frame/Project Zero scares him
– Miyamoto talks about using the GamePad in the living room and different/great it is; wants people to know this
– The Wii U game will use the GamePad as a camera
– Wants games like Fatal Frame to broaden the types of genres available on the Wii U
Manga
– Kibayashi Shin is penning the manga and shared a few words about this
– Talking about Manga Box, the new manga platform
– More talking about Manga Box and how much it has been downloaded
Wii U game
– Now we're gonna be talking about the new Fatal Frame game
– Producer Kikuchi Keisuke on the stage
– Trailer shown (see it here)
– Girl put out a missing persons request; disappeared in the mountains
– Out on September 27
– Full name is Zero: Nuregarasu no Miko (Fatal Frame: The Black Haired Shrine Maiden)
– Brief history of the Zero series; talking about what the games are all about
– Talking about the three elements of a Zero game: ghosts that can come from anywhere, old Japanese houses, and the camera itself
– The concept for the game is all about water, places with lots of flowing water
– Use the GamePad to take pictures
– It's an open sort of area apparently
– Main character: Kozukata Yuuri. Kagemi.
– She has the ability to look for people who have been taken into the ghost world, and bring them back to reality (kinda like a ghost private eye sorta thing)
– The game's volume will be the biggest in the entire series; lots of work being put in
– Kikuchi's presentation ends
– AnJu is doing the ending theme
– The theme is about the line between life and death
– It's a positive kind of ending theme, meant to represent reuniting with loved ones, warmth, love, etc.
– More info coming in the near future
Movie from Kadokawa
– Kadokawa and Inoue on stage
– Inoue said the movie is coming out around the same time
– Thanked Nintendo and Koei Tecmo
– Old trailer shown
– Asato Mari is the director
Hollywood movie
– Announced during this presentation
– From the producer of the Resident Evil movies