In last week's issue of Famitsu, Masahiro Sakurai wrote a new column that goes into detail about the debugging process with games. Although nothing earth-shattering was revealed about the new Smash Bros., it's quite an interesting read (though there is some Smash talk).
We've finally managed to put up a translation of Sakurai's column. Head past the break to read it in full.
Masahiro Sakurai took to Miiverse earlier today and shed a little more light on Shulk's moves in the new Smash Bros. Continue on below for his full comments.

Shulk's sword, the Monado, slashes enemies with a beam when activated, so it can strike from long range. What really makes this weapon unique is that when the Monado Arts are activated, it can change Shulk's features and abilities! Emerge victorious in battle by changing your abilities strategically!!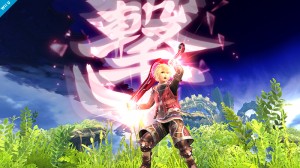 [List of Monado Arts]
? (Jump): higher jumps, lower defense.
? (Speed): faster movement, weaker attacks.
?(Shield): higher defense, slower movement.
?(Buster): stronger attacks, weaker launch ability.
?(Smash): Stronger launch ability, weaker attacks, lower defense against launching.
This month's issue of EDGE features interviews with a number of different developers, including Super Smash Bros. director Masahiro Sakurai. Among other things, Sakurai was asked to comment on how tournament players tend to focus on Melee as opposed to Brawl, and what will be done to ensure that something similar doesn't happen this time around.
Sakurai answered with a very lengthy response that can only be summarized in so many words. Many of his comments addressed the need to appeal to both casual and inexperienced gamers.
He also mentioned, "Although the pace of the game had to be lowered compared to Melee in order to achieve this balance, we have managed to keep the dynamism because we didn't have to gear towards novice players like we did with Brawl. In fact, we recreated all characters almost from scratch. Also, I feel on a personal level that this game is more interesting than the three previous games in the series."
Head past the break for all of Sakurai's comments. Believe us when we say there are plenty of them!
It's looking like Challenges in the new Smash games will work similar to Brawl, Sakurai details a little bit how they'll work with the two versions:
Leaks not enough information to keep your Smash cravings in check? The daily screenshots are still raging on! Today's focus is the Spectator Mode that will be featured even in the 3DS version:

Sakurai continues:
Being able to cheer someone on is what really makes spectating matches fun. This time, 1st and 2nd place will get prizes in four-player matches, and spectators can bet the gold they win on Bonus Chances.
The Smash Bros. staple Classic Mode is the focus of today's screenshots, Sakurai talks a little bit about how that will work:

What would a daily screenshot be without some sort of tease?
In Classic mode, you can choose your next challenge on the route map. Looks like Master Hand is waiting at the end, but perhaps something might change if you raise the intensity…?!
Today's Super Smash Bros. for 3DS screenshots provide a look at the game's sounds/music menus. You'll find both images and explanation from Masahiro Sakurai below.
Choose your songs and play with features on the bottom screen. You can listen to character voices, too. One of the new highlights for this feature is the "Play in Sleep Mode" option in the upper right. If you turn this on, you can listen to the tracks with your headphones even when your Nintendo 3DS is closed. The L and R Buttons will let you skip tracks. This means you can use it as a portable music player. Enjoy listening to the tracks you love by putting all songs in loop, shuffle, or selecting your favorite tracks!!
According to Smash Bros. creator Masahiro Sakurai, Wii U owners have a longer wait over 3DS owners due to the intense debugging process required before the release of a game.
"Checking is done both domestically and overseas, so for a game like Smash Bros., several hundred people are employed." Sakurai explained. "So, debugging alone becomes a huge project. So much so that one of the biggest reasons for the separate release dates for the 3DS and Wii U versions was so that we could shift the debugging periods."
While we all await with bated breath for the release on Smash Bros. for Wii U, we do have the 3DS release coming up on September 13 (Japan), October 3 (North America and Europe), October 4 (Australia).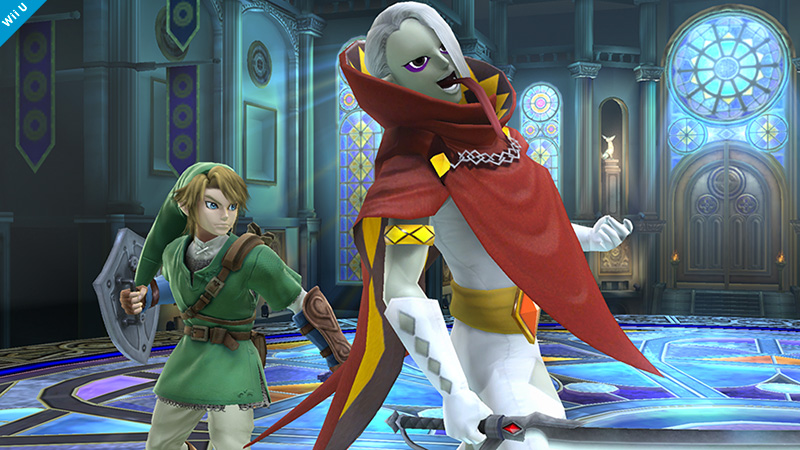 The latest Super Smash Bros. for Wii U screenshot from Masahiro Sakurai reveals the existence of a Ghirahim Assist Trophy. Check out the full update below:
Sakurai teases some more Smash Run content today, detailing the chests that will appear:
He continues:
…However, watch out for Mimicuties disguised as treasure chests. Run away! RUN AWAY!!