Control the skies in beautifully enhanced 3D on the New Nintendo 3DS XL System!

SAN JOSE, Calif., (January 14, 2015) – Leading video game developer and publisher BANDAI NAMCO Games America Inc. announced today that ACE COMBAT ASSAULT HORIZON LEGACY+ is scheduled to launch in the Americas on February 13, 2015 for the Nintendo 3DS hand-held system and New Nintendo 3DS XL hand-held system. This riveting flight simulation action game originally released in 2012 on Nintendo 3DS and is back to leverage the special features of the New Nintendo 3DS XL hardware!

Combined with the new and added features of the New Nintendo 3DS XL, ACE COMBAT ASSAULT HORIZON LEGACY+ will allow players to finally play ACE COMBAT ASSAULT HORIZON LEGACY the way it was intended. The New Nintendo 3DS XL C-stick, and ZL/ZR buttons will allow for better control and handling of the aircraft's movement and weaponry.
NEW NINTENDO 3DS AND NEW NINTENDO 3DS XL IN STORES IN EUROPE ON SAME DAY – 13th FEBRUARY – AS THE LEGEND OF ZELDA: MAJORA'S MASK 3D AND MONSTER HUNTER 4 ULTIMATE

New Fire Emblem game, IronFall: Invasion and next line of amiibo on the way

14th January 2015 – During a Nintendo Direct presentation aired today, Nintendo announced that New Nintendo 3DS and New Nintendo 3DS XL systems will release at retail on 13th February, the same day as much-anticipated titles The Legend of Zelda: Majora's Mask 3D and Monster Hunter 4 Ultimate, both releasing on Nintendo 3DS and 2DS systems in stores and Nintendo eShop.

New Nintendo 3DS and New Nintendo 3DS XL present a number of new enhancements designed to offer the smoothest and most engrossing portable gaming experiences. New Nintendo 3DS has a screen size 1.2 times larger than that of Nintendo 3DS, while both New Nintendo 3DS and New Nintendo 3DS XL feature a wider range of controls with the addition of a C Stick and ZL/ZR buttons, super-stable 3D via face-tracking technology and built-in NFC functionality that allows for communication with amiibo figures. While New Nintendo 3DS XL will be available in Metallic Black or Metallic Blue, New Nintendo 3DS will launch in Black or White, but with the addition of a wide range of cover plates – 12 of which will be available at launch, with more to release in future – to customise your system.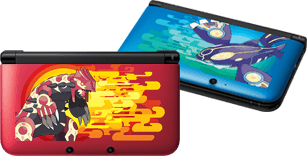 The Pokémon Company International, in cooperation with GameStop, today announced the debut of MegaStop, displays stocked with a variety of official Pokémon merchandise at select retail locations nationwide.

Trainers who purchase Pokémon merchandise at MegaStops will receive a special code that enters them into a contest for a chance to win various prizes. Prizes include digital booster packs redeemable in Pokémon TCG Online, one of 50 limited edition Nintendo 3DS XL featuring Primal Groudon and Primal Kyogre, and the VIP grand prize – a trip for four to Hawaii!
REDMOND, Wash.–(BUSINESS WIRE)– Nintendo revealed details about three of its biggest games of 2015: The Legend of Zelda, Mario Maker and Code Name: S.T.E.A.M.

Nintendo game designers Shigeru Miyamoto and Eiji Aonuma appeared via video at The Game Awards in Las Vegas on Dec. 5 to walk through some of the new game play of the Wii U installment of The Legend of Zelda franchise. Miyamoto and Aonuma showed off some visually stunning graphics, as well as the vastness of the world. Players can pinpoint locations on the map on the Wii U GamePad, which then appear as beacons in the game as an aid to navigation. The duo also showed off the gliding Sailcloth item, as well as how Epona, Link's horse, does not need to be directed through every step of her path. Epona will avoid trees and obstacles, just as a real horse would do, leaving Link's hands free to wield his sword or shoot arrows.

The public got its first look at Mario Maker for Wii U during the E3 video game trade show in June, and new details about the game, which lets users create their own Mario levels, were announced at The Game Awards. This includes the ability to tap the Wii U GamePad screen to change the look of the level design to a number of classic styles, including Super Mario Bros., Super Mario Bros. 3, Super Mario World and New Super Mario Bros. U. Each style includes game mechanics unique to the original game, such as ground-pound or wall-jump maneuvers. Players can integrate these mechanics into designs for the various titles featured in the game. This game will launch in 2015, which will be the 30th anniversary of the original Super Mario Bros. game.
Explore with Captain Toad, Draw with Pikachu and Battle with Mario

December 05, 2014 08:00 AM Eastern Standard Time
–(BUSINESS WIRE)–Nintendo:

WHAT:
On Dec. 7, Nintendo and Best Buy have a holiday gift at participating locations across the country: hands-on game play featuring Captain Toad, Pikachu and many of the most iconic characters in video games. At select stores, shoppers can play four of Nintendo's hottest games of the holiday season: Captain Toad: Treasure Tracker for Wii U, Pokémon Art Academy for Nintendo 3DS and Super Smash Bros. for Wii U and Nintendo 3DS, all of which are now available in stores and in the Nintendo eShop.

Captain Toad: Treasure Tracker features Captain Toad in his first starring adventure, as he searches for treasure through multiple creative and colorful levels. In Pokémon Art Academy, fans of all ages can learn how to draw their favorite Pokémon characters in 2D using the touch screen of the Nintendo 3DS system. In Super Smash Bros. for Wii U and Nintendo 3DS, all-star characters like Mario and PAC-MAN battle it out in epic arenas inspired by some of the most memorable video games of all time.
REDMOND, Wash.–(BUSINESS WIRE)–Cuff your acid-wash jeans and tease up that hair: It's time to head back to the days of two-button controllers and game paks. On Dec. 5, the best (8-)bits from the NES Remix and NES Remix 2 games kick it portable style in Ultimate NES Remix. Here's the 4-1-1: The Nintendo 3DS game features a fast-paced series of challenges from 16 of Nintendo's finest NES games like Super Mario Bros. 3, Metroid and Kid Icarus. Have you ever wanted to use Princess Peach to rescue Princess Peach? Collect coins with Samus? Or help Link from Zelda II: The Adventure of Link battle a Hammer Bro? If so, then this game is, like, totally for you! On the same day, NES Remix Pack for Wii U launches in stores, combining previous digital-only games NES Remix and NES Remix 2 in one convenient physical package.

"Even decades later, NES games are once again making a big splash this holiday season," said Scott Moffitt, Nintendo of America's executive vice president of Sales & Marketing. "Whether you're buying gifts for the fan in the family who fondly remembers the NES, or introducing these classic Nintendo games with a twist to younger players, Ultimate NES Remix and NES Remix Pack make great retro-flavored stocking stuffers."
REDMOND, Wash.–(BUSINESS WIRE)–The underdog hero Captain Toad needs help! He and Toadette will do anything for treasure. How else to explain the two intrepid explorers tackling near-insurmountable obstacles like smoldering volcanoes, rickety mine carts, haunted houses and even fire-breathing dragons? Talk about perseverance! In the Captain Toad: Treasure Tracker game, launching exclusively for the Wii U console on Dec. 5, players must muster their own courage to help Captain Toad and Toadette tackle maze-like levels full of tricks, traps and enemies.

Captain Toad: Treasure Tracker finds players donning their own trusty head lamps to journey through more than 70 colorful and imaginative levels. Each level is a self-contained puzzle full of surprising obstacles and creative challenges that can only be solved by viewing the world from different angles using the Wii U GamePad controller. With Super Gems and Power Stars hiding in every nook and cranny, power-ups ready to be grabbed and many unlockable secrets, Captain Toad: Treasure Tracker is overflowing with treasures of all types to track. And tracking treasure is what Captain Toad and Toadette do best.
REDMOND, Wash.–(BUSINESS WIRE)–Soaring high in the skies on the back of a majestic Pokémon, discovering the mysterious origins of Mega Evolution and releasing the primal powers of Legendary Pokémon. These are only a few of the new franchise features that players can experience for the first time in Pokémon Omega Ruby and Pokémon Alpha Sapphire, both launching exclusively for the portable Nintendo 3DS video game system on Nov. 21. With new Mega Evolutions of favorite Pokémon characters, new areas to explore and new ways to travel, fans who fell in love with the original Pokémon Ruby and Pokémon Sapphire games will feel like they are embarking on their adventure through the Hoenn region for the first time.

"Pokémon Omega Ruby and Pokémon Alpha Sapphire kick off the holiday shopping season with games that both old and new Pokémon fans will love," said Scott Moffitt, Nintendo of America's executive vice president of Sales & Marketing. "The games let players explore and experience the world of Pokémon like never before, with hours of portable entertainment perfect for long holiday trips."
REDMOND, Wash.–(BUSINESS WIRE)– This holiday season is all about Mario. And Link. And Yoshi. And Samus. And Kirby. And…well, a lot of classic video game characters. That's because Super Smash Bros. for Wii U and the first round of amiibo figures, Nintendo's first foray into the toys-to-life category, are both launching on Nov. 21, right in time for the holiday shopping season. Nintendo's favorite characters are going to be everywhere, whether on the battlefields of Super Smash Bros. for Wii U, on store shelves as must-have amiibo figures or at the top of everyone's holiday wish lists.

"Launching Super Smash Bros. for Wii U and amiibo on the same day kicks off the holiday shopping season with a bang…and a smash," said Scott Moffitt, Nintendo of America's executive vice president of Sales & Marketing. "With a wide range of amiibo figures to choose from and a new Super Smash Bros. game on Wii U with more features than ever before, shopping for the Nintendo fan on your list will be easy this year."
Mirage Spots and Ancient Gateways Unleash Legendary Pokémon, Eon Ticket Leads Trainers to Latias or Latios, and More Unveiled before November 21 Launch

BELLEVUE, Wash. – November 14, 2014 – Today, The Pokémon Company International revealed Delta Episode story details for the Pokémon Omega Ruby and Pokémon Alpha Sapphire games launching November 21, 2014. Players can learn more about the new Delta Episode, featuring Deoxys and other surprises; the region¹s Mirage spots that conceal Legendary Pokémon; and the mystery of the ancient codes hidden throughout Hoenn in the new trailer.

Embark on a new adventure and encounter Deoxys in the Delta Episode
Pokémon Omega Ruby and Pokémon Alpha Sapphire introduce a new story, the Delta Episode, which reveals the history of the Hoenn region and thrusts Trainers into a quest to save the world. The Mossdeep Space Center, a research facility for studying space and rocket science, discovers that a giant asteroid is hurtling toward the planet. Trainers must stop Team Magma and Team Aqua from attacking the facility. Meanwhile, a battle in space is brewing between the Sky High Pokémon Rayquaza and the DNA Pokémon Deoxys, a powerful Pokémon that can transform between four distinct Formes: Normal Forme, Attack Forme, Defense Forme, and Speed Forme. Rayquaza faces a fateful challenge that will determine the future of Hoenn.