This month's issue of CoroCoro has started to leak, and it contains new details about Pokemon Omega Ruby/Alpha Sapphire. Thanks to the magazine, we know of three new Mega Pokemon: Mega Sceptile, Swampert and Dianice.
Mega Sceptile is a Grass/Dragon-type, while the other two maintain their type. Groudon and Kyogre's Mega Evolutions are known as Atom Groudon and Atom Kyogre and are said to be an atomic regression.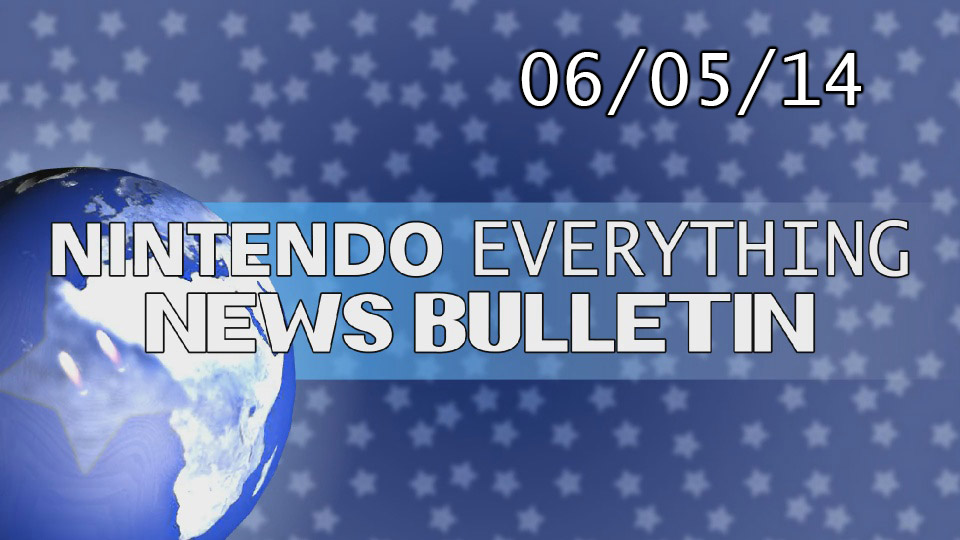 Lots of news to cover this time around! I touch on about six news stories in total. Enjoy!
---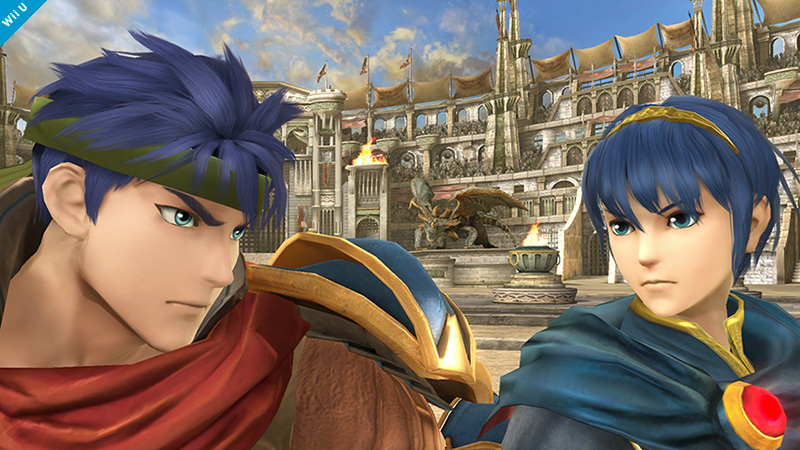 Today's new screenshot of Super Smash Bros. has revealed a brand new stage. The stage is Fire Emblem themed and is shown off by Ike and Marth. Here is what Sakurai had to say about it on Miiverse along with a second screenshot:
We've added a familiar setting from the Fire Emblem series, the Coliseum. In the original game, this place is filled with both hope and despair. There is machinery in the ground that activates variable platforms.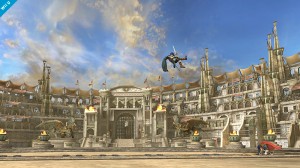 Shovel Knight has received a final North America release date. On Twitter, developer Yacht Club Games confirmed that the title will arrive on June 26.
The studio said:
Yacht Club Games is extremely proud to announce that Shovel Knight will begin his adventure on June 26th. pic.twitter.com/NkC4vVDYzZ

— Yacht Club Games (@YachtClubGames) June 6, 2014
Shovel Knight will be available on Wii U and 3DS via the eShop. No word yet on the European release at this time. However, Yacht Club has "been working through localization and ratings specific to the European region."

Gaijin Games is no more – in a name sense at least. Going forward, the studio will be known as "Choice Provisions".
Choice Provisions explained the name change in a blog post, stating:
When Gaijin Games was founded in September of 2008, it was with the goal of creating the kinds of games we played in our youth. As it turns out, many of the games we grew up playing were developed outside of the US. This is what inspired us to brand ourselves as "gaijins."

The name made sense, but it also carried somewhat of a negative connotation to it. No matter how you may feel about the word "gaijin" personally, I think it's fair to say that some people out there view it as a negative term. Being the upbeat, positive folks we are, the last thing we wanted was for people to be offended by our name. We are but humble purveyors of video games, and the end goal of all the work we do is to make people happy.

Ergo, we're changing our name to Choice Provisions.
Along with today's news, Choice Provisions has officially confirmed Woah Dave! for 3DS. The title is due out this summer.
Natsume has revealed its final two Nintendo-related announcements for E3 2014. The publisher will be localizing A-Train: City Simulator for 3DS as well as Alphadia Genesis for Wii U.
Here's an overview of both games:
Combining the best of both city simulation games and transportation simulation games, A-Train: City Simulator for 3DS is sure to be a hit with fans of both genres! As the newly promoted head of the local transportation agency, it's your job to make sure that both the city and its transportation system run smoothly! From buses, trains, and subways, you'll have to think about the best way to incorporate these into the city while avoiding possible bottlenecks and frustrated citizens!

Natsume is also pleased to reveal their first Wii U game, Alphadia Genesis! Boasting a rich, complex story starring Fray, a member of the local guild, and Corone, a knight. As their journey progresses and conflicting national interests come to the forefront, it becomes apparent that it may take more than a little work on both their parts if their relationship is to weather the foreboding storm on the horizon.
A-Train: City Simulator and Alphadia Genesis, along with Harvest Moon: The Lost Valley, will be showcased at E3 2014.
Source: Natsume PR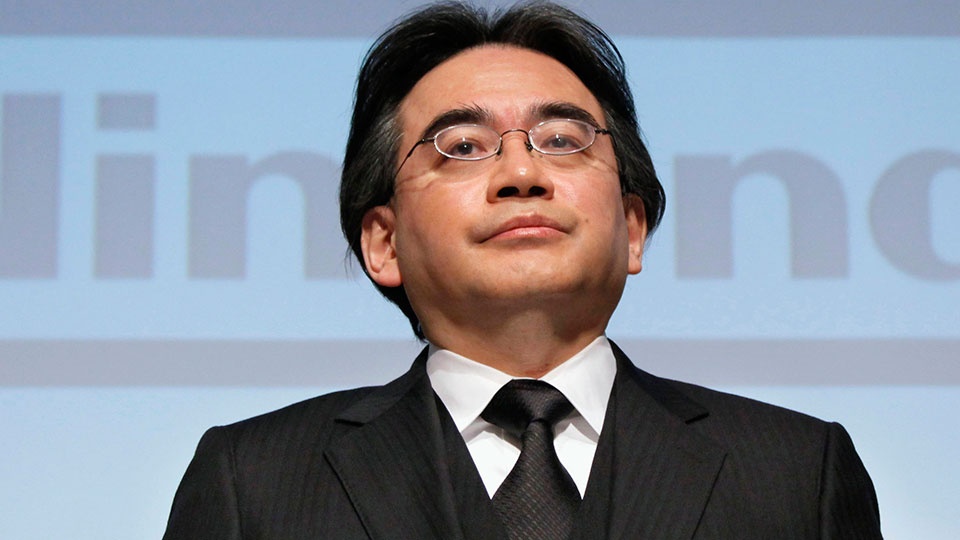 Nintendo president Satoru Iwata will not be attending E3 2014 next week, Nintendo of America has confirmed. Iwata was advised not to travel overseas in the immediate future on the advice of his physician.
A representative told Polygon that "it is business as usual for Mr. Iwata, and he continues his normal duties as president of Nintendo Co., Ltd. while he remains in Japan." Nintendo added, "As always, he will be actively involved in all of Nintendo's activities at the show."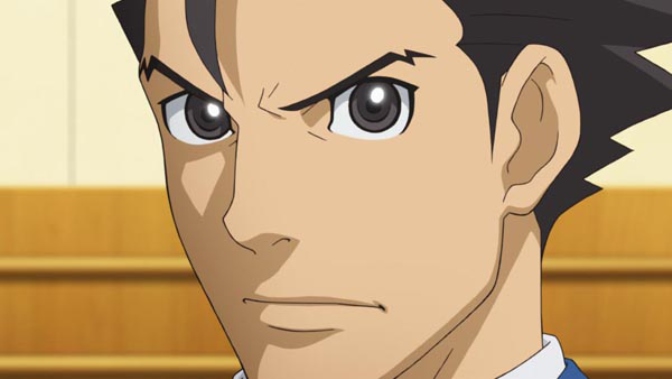 Capcom is bringing Phoenix Wright: Ace Attorney Trilogy to the west, the company has revealed.
Phoenix Wright: Ace Attorney Trilogy is a compilation of the series' first three entries. Capcom previously launched the 3DS compilation in Japan back in April.
Here's an official overview:
Defend the innocent and save the day! Courtroom hero Phoenix Wright lays down the law this winter in the digital release of Phoenix Wright: Ace Attorney Trilogy. Experience the original trilogy like never before in clear, high-resolution re-drawn graphics and immersive 3D visuals optimized for the Nintendo 3DS system. Join rookie lawyer Phoenix Wright through the early years of his career in his quest to find the truth behind all of the classic cases! Prepare for intense courtroom showdowns by investigating crime scenes, collecting evidence, and questioning witnesses. Use evidence and the testimonies of witnesses to your advantage as you battle for the innocence of your client. Nothing less of a full acquittal will do in this court of law. Find the contradictions in witnesses' testimonies to expose the truth!
Phoenix Wright: Ace Attorney Trilogy will be available digitally on the 3DS eShop this winter for $29.99. English and Japanese language options will both be included.