This month's issue of Nintendo Force provides more details about Shantae and the Pirate's Curse. You can find them rounded up below.
– Risky appears at the start of the game with a prospect of an alliance
– The remnants of Shantae's magic have transformed Risky's crew of Tinkerbats
– They seek to revive Risky's former mentor, the Pirate Master
– Shantae and Risky form a temporary truce
– The game is as long as the original Shantae and Risky's Revenge combined
– Travel beyond the shores of Sequin Land to investigate 6 islands
– Each has its own labyrinth and boss
– Grid-based map
– Shantae can use her hair as a whip per usual and Fighter's Gear
– Fighter's Gear: ability enhancements back from the original game
– Shantae also have access to Pirate Gear
– Puff open a pirate hat to glide over gaps or ride currents
– Use a cannon to propel Shantae skyward
– Whip out a flintlock pistol to target foes from a distance
– Strap on a pair of Risky's boots to charge at enemies with scimitar at hand
– Shantae's friends are back like Sky, Bolo, and Rottytops
– New faces as well such as Death itself
– Loose ends will be tied up in the story
– Learn more about several characters on a personal level
– Risky's history with Pirate Master will be explained, and you'll discover how she became drawn to a life of villainy
– Inti Creates made 100+ character illustrations in place of in-house artwork
– Hundreds of voice clips
– Jake Kaufman is leading the score
– Unlock a "Pirate Mode" after clearing the game once
– WayForward isn't saying what this is, but you might be able to play as Risky Boots
– Wii U version will support the Wii U Pro Controller and off-TV play
– High-defition visuals as well
As a side-note, Shantae and the Pirate's Curse will be priced at $19.99.
Name: Shantae and the Pirate's Curse
Publisher/Developer: WayForward
ESRB Rating: E10+, fantasy violence, suggestive themes
Target Release Date: Fall 2014
Platform: Nintendo 3DS, Wii U (Nintendo eShop exclusive)
Players: single player
Genre: Adventure/Quest/Platformer

Synopsis: Embark on a brand new adventure with Shantae, the hair-whipping belly dancing genie. When Shantae loses her genie magic, she must join her nemesis, the nefarious pirate Risky Boots in order to save Sequin Land from an evil curse. As a pirate, Shantae gains new weapons and tools to advance her quest, slay monsters, battle epic bosses …and hopefully get her magic back in the bargain! But can she really trust her most deadly enemy?
In an interview with Siliconera, Shantae director Matt Bozon touched on the different prototypes that the studio experimented with in the past but never saw the day of light. Among the projects include "a polygonal Shantae that could be run around in three distinct gameplay 'gyms'".
Bozon's full comments:
"We had a polygonal Shantae that could be run around in three distinct gameplay 'gyms'. One was a spline-scroller (like Namco's Klonoa), one was a free-range 3D like Mario 64, and the last was an isometric 3D platformer. We've done a lot of exploration in this area… Shantae was a sprite/3D hybrid for PlayStation and PC, and was free-roaming on the PlayStation 2. She even rode a river raft on the GameCube. It's possible that we'll see a polygonal Shantae down the line, but only if it serves the style of gameplay we want to create at the time."
Bozon also spoke with Siliconera about WayForward's upcoming Shantae games. Speaking about the differences between Pirate's Curse and Half-Genie Hero, he said:
"The games are fairly different. The teams have no real crossover besides me and Jake (Virt) Kaufman. Half-Genie Hero is more about dancing, over-the-top spectacle, arcade action, and some light quest elements to keep it true to the series (and it's still in development, so anything can happen!). It's like a Shantae TV show come to life!"

"Pirate's Curse has a deeper narrative and is more rooted in 16-bit stylings, even though it has higher resolution paintings and occasional voice over. Pirate's Curse expands the original gameplay and takes into new territory. Half-Genie Hero goes back to belly dancing and magic, but adds a ton of variety with more playable characters and HD visual design."
Shantae and the Pirate's Curse is almost here. The game is now in lot check, which is one of the final steps required before launching on the eShop.
WayForward shares the news on Twitter in the following message:
Hey Shantae Fans! #Shantae and the Pirate's Curse is in Lot Check. Run Bolo, Run! pic.twitter.com/MKtJtsB5tO

— WayForward (@WayForward) September 26, 2014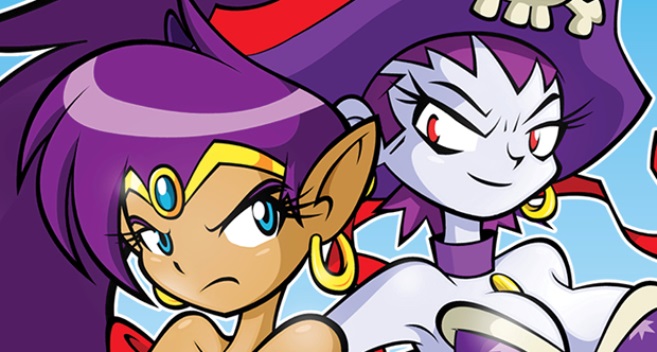 Shantae and the Pirate's Curse will receive an update in the future to take advantage of the New 3DS, WayForward has revealed.
Speaking with Siliconera, director Matt Bozon said:
"We're really excited about the New 3DS! We have an update for Shantae and the Pirate's Curse already underway, which will add a 'quick select' control scheme, as well as other minor improvements to the game. Look for that to arrive closer to the launch of the New 3DS in the US."
Bozon did not say what sort of "minor improvements" will be included. However, it's already been confirmed that Shantae and the Pirate's Curse will run at 60 frames per second on a regular 3DS with stereoscopic 3D turned on.
Shantae and the Pirate's Curse has gone gold. WayForward announced the news on Twitter a few minutes ago, writing:
#Shantae and the Pirate's Curse #3DS is a wrap! Congrats team! pic.twitter.com/JztZiuPU7M

— WayForward (@WayForward) September 23, 2014
WayForward still hasn't announced a release date for Shantae and the Pirate's Curse. However, I imagine that will be changing soon!
The launch of Shantae and the Pirate's Curse draws closer. Over on Twitter, developer WayForward stated that a mid-October release is probable for North America.
The studio said:
#Shantae and the Pirate's Curse will likely release in mid-October in the US. We'll announce the date once we have it.

— WayForward (@WayForward) September 15, 2014