The Great Ace Attorney 2 – brand new details and screenshots/art, 3DS demo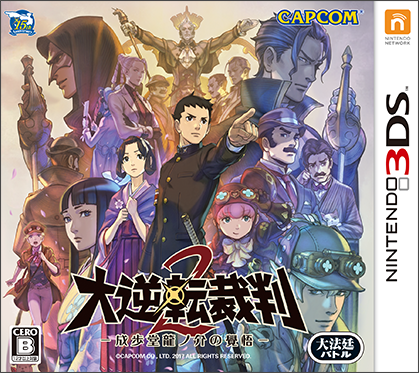 This week's issue of Famitsu has a new article on The Great Ace Attorney 2. Brand new information is included in the information, as rounded up below:
– Coroners Courtney Sithe and Maria Goulloyne introduced
– Sithe is the head coroner of Scotland Yard
– This is a position that was only recently created
– Sithe works at the forefront of forensic science with her daughter Maria
– Ryuunosuke meets them when the case he's investigating calls for more detailed investigation, including fingerprint work
– Sithe can seem blunt, but also makes it clear that she sees her job as her own way of fighting criminals
– New waxworks "kidnapping" case
– In a somewhat off-the-beaten-path corner of the World's Fair, a waxworks museum has been erected
– It features the works of the Rozaic family
– One of the major figures from the museum's House of Horrors, which collects London's major criminals, has gone missing
– Holmes is intrigued by Rozaic referring to it as a "kidnapping"
– It's not long after he gets there that another bout of Joint Reasoning crops up
– Later, at the trial, Rozaic testifies that the criminal was using the theft to demand a virtual fortune for the figure's safe return
– She also notes that the wax figures of the museum are created by taking a cast of the person's face directly
– Pre-order bonus Asinine Attorney mini-cases
– In the first, Asougi takes on a special trial as part of his preparations for studying abroad, going up against a still-angry Payne
– In the second, Holmes takes to the defense bench when Iris is arrested, with Ryuunosuke as his 'assistant'
Here are some new screenshots and art as well:
Finally, those with access to the Japanese 3DS eShop can download a demo for The Great Ace Attorney 2. It's similar to the web demo, but with a bit of extra content. The main game can also be pre-loaded (6,446 blocks of space required).
Leave a Reply