Top 5 grossing portable games of 2015 worldwide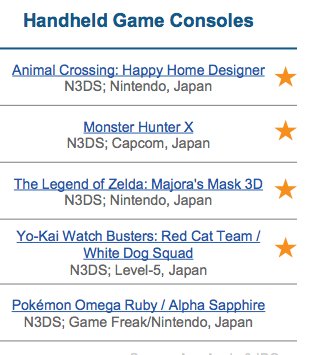 App Annie published a report this month about gaming. On one particular page, there's some interesting data pertaining to sales of portable titles last year.
Here's the lineup of the top 5 grossing portable games worldwide:
1. Animal Crossing: Happy Home Designer
2. Monster Hunter Generations
3. Zelda: Majora's Mask 3D
4. Yo-kai Watch Busters
5. Pokemon Omega Ruby/Alpha Sapphire
Two Japan-only games made the list: Monster Hunter Generations (coming out this summer in the west) and Yo-kai Watch Busters. The entire lineup isn't too much of a surprise!
Leave a Reply