Triangle Strategy up for pre-order on UK My Nintendo Store, including limited edition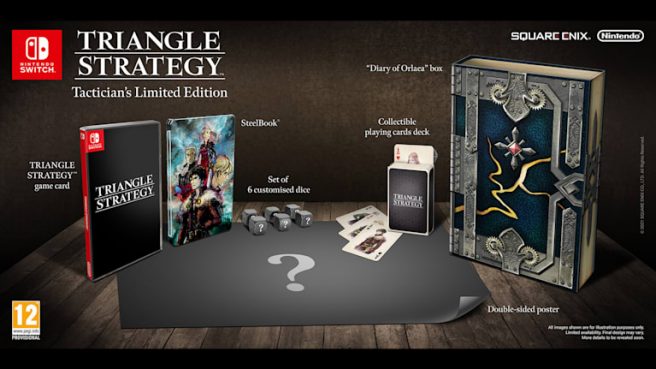 Those that would like to pre-order Triangle Strategy can do so from the UK My Nintendo Store. Not only is the standard game available, but the Tactician's Limited Edition is up for grabs as well.
The standard edition is just that – the game itself. With the limited edition, you'll receive the game and a bunch of additional goodies – six customized dice, a deck of playing cards, a steelbook, a double-sided poster, and a collector's box. Thus far there's no word on any pre-order bonuses for either version.
You can pre-order Triangle Strategy on the UK My Nintendo Store here.
Triangle Strategy popped up during last week's Nintendo Direct where it received a final release date of March 4, 2022. Additionally, Square Enix shared a new trailer this week to promote the game's appearance at TGS 2021. You can find it here.
Triangle Strategy was first made known earlier this year. It continues the HD-2D art style that Square Enix started with Octopath Traveler, though this time around, it's a tactical RPG. One of the game's most notable features is decision-making, as key choices you make will bolster one of three convictions: Utility, Morality, and Liberty. What you decide will ultimately influence how the story will unfold.
Leave a Reply