War Tech Fighters landing on Switch in Q2 2019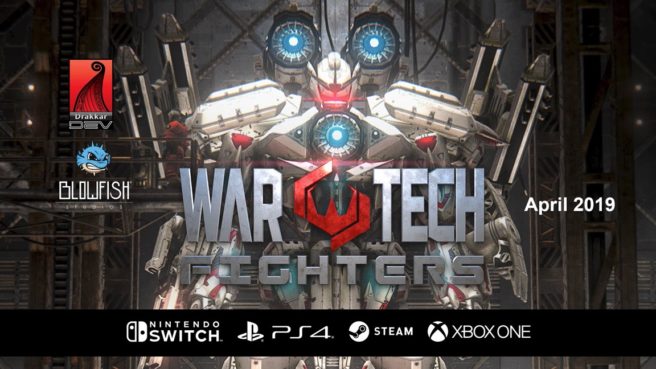 War Tech Fighters is in the works for Switch, Blowfish Studios and Drakkar Dev announced today. The sci-fi mech action game is scheduled for Q2 2019 as an eShop title.
We have the following overview and trailer:
After a devastating war, the ruthless Zatros empire claimed the home planets of the Hebos and Ares colonies. Pilots from the remnants of the shattered colonies fight fiercely for their independence in fully-customizable mechs called War Tech. Captain Nathan Romanis leads the talented squadron in their desperate struggle to reclaim their home.

Choose between the Hawk, Lynx or Rhino class (light, balanced, and heavy) War Techs and customize them with over 180 upgradeable parts and systems. Modify bullet, laser, sword, and magnetic weapons, or create a flying tank with high shields and defense. Thousands of custom paint and livery options ensure that each pilot feels ownership over their War Tech. Explore space and find hidden parts to access new War Tech sets and new weapons. Level up each mech to unlock their true potential.

A War Tech's agility and destructive capabilities shine in space as they launch brutal assaults from long-range and narrow the gap for up close and personal sword battles and stylish execution moves. But fighting isn't everything when it comes to War Techs. Performing high-risk stealth missions, navigating through radiation fields, intercepting coded messages and solving environmental puzzles are all in a day's work for pilots.

War Tech Fighters brings together the fantastic mech universes of anime and Hollywood blockbusters into a fast-paced first or third-person adventure. Take down the Zatros empire across 33 single-player missions, train in the simulator, complete challenges or enter Survival mode against an unending onslaught for special rewards and fight for the top of the global leaderboards.

Exclusive to the console release of War Tech Fighters is the new Archangel War Tech special set, featuring the powerful Glory Sword, Redemption Halberd, and Faith Shield. Available from the start of the game, the Archangel can turn the tides when a mission might be too difficult with other mechs.
War Tech Fighters will support English, French, Italian, German, Russian and Spanish language options. It'll be on display at PAX South between January 18 and January 20.
Source: Blowfish Studios PR
Leave a Reply