Zelda: Breath of the Wild – full details on Champions amiibo functionality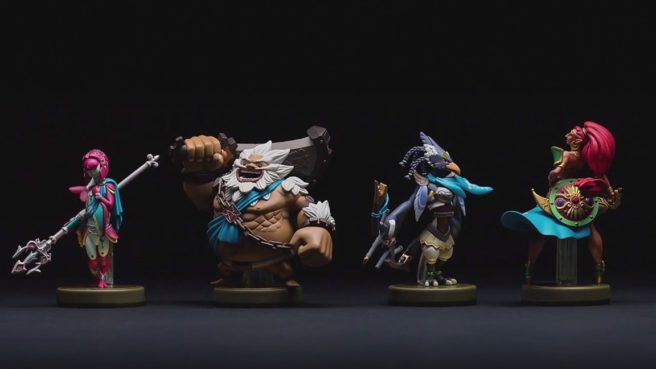 The Champions amiibo for The Legend of Zelda: Breath of the Wild arrive next week. We had some idea about what these figures would do, but Nintendo has provided further information on the official Zelda Facebook page.
Here's the full rundown:
With the Champion amiibo coming out on November 10th, learn more about what each helm does in The Legend of Zelda: Breath of the Wild!

When any of the Divine Helms are equipped with Ancient Cuirass and Ancient Greaves (All armor items need to be upgraded level 2 ★★ or above), you'll also trigger a set bonus, Ancient Proficiency, which increases the attack power of Ancient or Guardian series weapons. All of them will increase guard from ancient energy attacks, while defense level and required materials for level-up are the same as those of Ancient Helm. Enemies' remaining HP/full HP will also be visible like the Champion's Tunic.

Additionally, there are specific effects for each item:

– Vah Rudania Divine Helm: Flame Guard (Lv1)
– Vah Ruta Divine Helm: Swim Speed Up (Lv1)
– Vah Naboris Divine Helm: Electricity Resistance (Lv1)
– Vah Medoh Divine Helm: Cold Resistance (Lv1)
The Zelda: Breath of the Wild Champions amiibo are slated for November 10.
Leave a Reply