Here's a Podcast: Episode 8!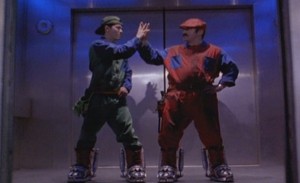 How to fix 2D Mario games, Sony versus the Wii U, Wii U's (non)existent achievement system– PLUS our top five games that would make utterly horrible movies (and who we would cast in them!).
~ ~ ~ ~ ~ ~ ~ ~ ~ ~ ~ ~ ~
At one point during the podcast, Jack said (in reference to New Super Mario Bros. Wii) that he "could have just found" a secret I was talking about, but he just didn't WANT to. I challenged him to try finding it after the show and he agreed to give it a shot.
He was unable to locate it.
~ ~ ~ ~ ~ ~ ~ ~ ~ ~ ~ ~ ~
What we played: Laura, Jack, and Austin  -{3:55}-
News: Reasons to buy ZombiU, Wii U processor power, Platinum Games responds to criticism, more -{8:05}-
Discussion 1: How to "fix" 2D Mario -{25:00}-
Discussion 2: PS3+Vita can do everything the Wii U can do? (Thanks to Osobari for some insight on this!) -{37:03}-
Discussion 3: Achievements on Wii U? (Thanks to Alex for the idea!) -{43:12}-
Complaint Corner: Wii U Launch Games, People Thinking the SNES is Better Than N64, more -{45:15}-
Guess the Game With the Media I Give You: Image here. Play along at the time specified! -{49:15}-
Top Ten List: Our top 5 games that would translate into really terrible movies. -{54:09}-
Leave a Reply