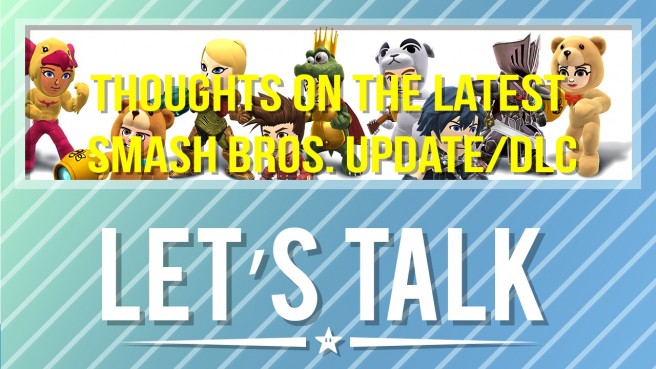 Let's Talk #17: Thoughts on the latest Smash Bros. update/DLC
Nintendo gave Super Smash Bros. for Wii U/3DS a whole bunch of content last night. While there weren't any new characters, we do have access to a number of new things.
Both versions of Smash Bros. added two classic levels: Hyrule Castle and Peach's Castle. Several new Mii Fighter outfits came out as well.
On Wii U, Nintendo finally launched the game's Tournament Mode. Uploading replays to YouTube is also now possible.
The latest Smash Bros. content has only been out for about a day, but I still wanted to have this week's discussion focused on what's new in both games. Have you been able to give the new stages a whirl? What are your thoughts on the Tournament modes? I'm also curious: how many of you are actually interested in the Mii Fighter costumes? Sound off in the comments below!
---
Highlights from last week's topic: Most anticipated Wii U games
Guymelef
My most anticipated announced games for Wii U would be (in no particular order):
Xenoblade Chronicles X
Lego Dimensions
Guitar Hero Live
Star Fox
Shin Megami Tensei X FE
Fatal Frame
Devil's Third
Zelda U
For 3DS (I know it's not part of the survey, but just to include): Fire Emblem Fates and Monster Hunter X
while I'm interested in Yoshi's Wooly World and Mario Maker, they're not on top of my list.
Killey
Fatal Frame V, Rodea: The Sky Soldier and Star Fox Zero are the games I'm looking forward to, I'lI probably add Devil's Third and that's it for this year. Zelda and SMT x FF so far for 2016
David Arkema
The wii u games I looking forward the most are
Skylanders superchargers, because I love the amiibo support, this will ve my first skylanders game and the gameplay looks really fun.
Devil's third, because I need an action game next to bayonetta and singlepalyer gameplay looks amazing and what you can do the online multiplayer looks funny like hell, but may need some patches.
Xenoblade chronicles x, because I loved the first one the wii and I love wandering in a massive openworld with gorgeous enemies and you can ride in a mechsuit.
Pokken Tournament, because I need a (wii u) pokemon game that isn't a mainstream pokemon game (fire red/emerald/y) and I really love fighting game, especially street fighter and ssb. graphical it looks amazing, but the cast (playable characters) needs to be expanded.
superphillip32
Super Mario Maker – As someone who really enjoys level design and wants to go into the field of game design after graduating college, Super Mario Maker's creation tools seem like a godsend to me. I will get to make levels with what looks like to be a very easy and intuitive interface, practice my skills and creativity with designing levels, and get inspiration from other creators while enjoying playing the levels as well.
Yoshi's Woolly World – It pained me to see the North American release date of Yoshi's Woolly World be so far away in comparison to the European, Oceania, and Japanese launches. The game looks like what many have been wanting from the Yoshi series since Yoshi's Island. Throw in some awesome looking levels, hidden goodies, and a reported challenge, and I can't wait to be able to play this game.
Star Fox Zero – I've waited a long time for a new Star Fox game that I really enjoy. I did love Assault, and of course I greatly was enamored with 64. Command was okay, but now we have another traditional Star Fox game to look forward to. I trust Nintendo and Platinum Games to create a compelling and engaging campaign to blow me and other players away.