Metroidvania Astronite coming to Switch this November
Posted on November 10, 2022 by Dawn in News, Switch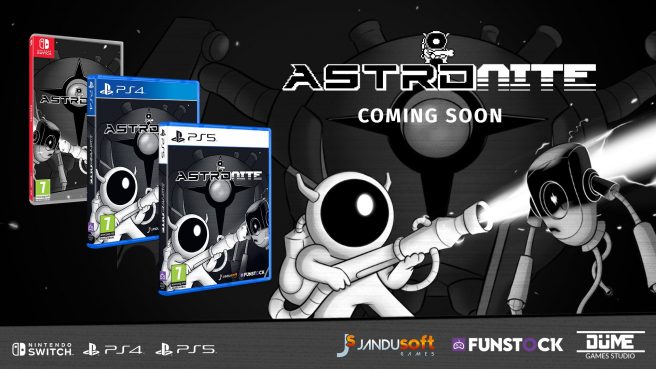 Original (5/26): Astronite will be launching on Switch this October, Funstock and JanduSoft have announced. The game is a Metroidvania which focuses on classical elements inherent to the genre, including exploring different zones to acquire powerups, finding hidden secrets, and facing off against big bosses. A physical release of the game will also be available.
Here's an overview of the game, courtesy of Funstock:
Take control of the brave explorer Astronite and explore a huge map with different zones full of hidden secrets, enemies, and big bosses. Recover the planet and restore it back to civilisation before it was invaded by strange creatures! Explore an uncharted planet with the help of your skills…

Shoot, jump, or use the 'dash' or 'fly' manoeuvre to overcome all the challenges and advance to the planets core.
Improve your skills with permanent power-ups spread throughout the planet.
Explore all the corners to find hidden paths or items that will help you in your adventure.

Find the Echo Gates and Overcome its Challenge!

Inspired by great video game classics, meet intriguing characters that can help you in your adventure, or make things complicated. Get the power-ups and travel through all zones. Fight many different enemies, explore platforming areas, and defeat bosses that stand in your way! Your quest is clear: eliminate the invasive species from your home planet.

Solve the Puzzles Scattered Around the Planet

Mission 2205 is the last chance for the ancient inhabitants of Neplea. Long ago the inhabitants discovered that a strange entity lived in the core of the planet. They studied it carefully but were never able to decipher the riddle. Solve the puzzles scattered around the planet to get prizes, items or improvements that will allow you to continue your journey.

Fight Against Various Bosses!

Fight against various bosses throughout your adventure and participate in a Fighting Festival to demonstrate your skills. Buy items in the shop with the 'Shpirti' (spirits of dead enemies) you acquire by killing enemies or finding hidden chests.
Here's a trailer:

Astronite is expected to release on Switch in October this year. We'll let you know when an exact date is announced.
Source: Funstock PR
---
Update (11/10): Astronite did not end up making it out in November. However, we now have a final release date of November 30, 2022.
Leave a Reply