What games will we be playing on Halloween tonight?

As gamers on Halloween, many of us don't have plans and shan't do anything this evening other than do what we do every night: Play games. I'm joking of course, but what about those of us that really don't have plans tonight? Or maybe we plan on playing games with some of our friends? Do we game the same way we always do, or should we play certain games to enhance the "halloween" feel? I'm not sure what all of you are doing to get yourself in the mood, but I know what 2 games I'll be playing.
Resident Evil (Gamecube Remake)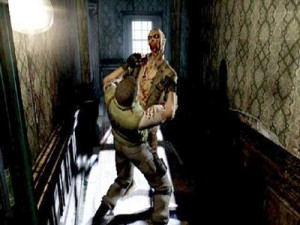 What good would a halloween games list be without some good ol' fashion scares in the fantastic gamecube remake of Resident Evil? Not too good, I can tell you that. While the original holds a place in many people's nostalgic hearts, it's hard to deny that 2002's Resident Evil is a substantial upgrade from the first as far as scares are concerned. Aside from removing the shoddy (and all around hilarious) voice acting, the team behind the masterpiece enhanced the visuals, music, and animations, all of which did wonders for the atmosphere of the game. Each of the scares from the original are present, and tons more scares are added in, such as my personal favorite, the zombie shadow through the window. If you're not sure what I'm talking about, then it's about time you played through the game! Budget priced at only $30 on Wii, Resident Evil is one of the best deals, and scariest games I have ever had the pleasure of experiencing.
~~~~~~~~~~~~~~~~~~~~~~
Animal Crossing: City Folk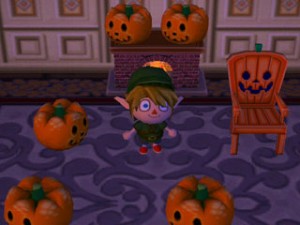 Any player of the Animal Crossing series knows: If you own the game, you better get on during holidays. Halloween is no exception, as a pumpkin faced man (creature?) comes to visit, and for a little candy he'll give you some very special goodies! Much like during the winter holidays, the furniture is worth a substantial amount in bulk, and if you're not in the selling mood, it looks especially great with some pumpkins scattered around the fire! Be careful though, because Halloween has brought a terrible curse upon your friends: They've all been turned into pumpkin headed ghouls, and if they touch you, they'll turn you into one as well. Of course, there's plenty of other surprises to discover as well, but I'll leave that up to you guys! Animal Crossing: City Folk retails around full price, but can be purchased at nearly any retail outlet. Don't expect to be able to experience this one anytime soon though, as Halloween only comes once a year! And before you ask, yes, that is my Animal Crossing character dressed as Link for Halloween.
~~~~~~~~~~~~~~~~~~~~~~~
Of course, these certainly may not be the greatest 2 games to play on Halloween (and taking into account Animal Crossing, certainly not the scariest!) but they're definitely the two spook-themed games I'll be playing. What about you guys? Let's hear about your top Halloween picks in the comments section, or on the forum!
Leave a Reply