Japanese retailers report strong pre-orders for Switch, share various information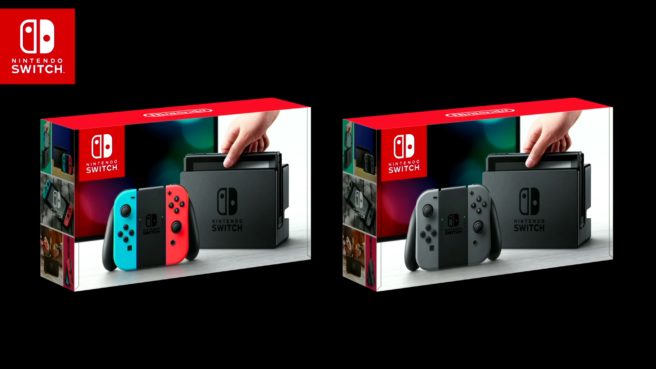 Last week, Famitsu had another dedicated feature on Switch. As part of that, the magazine spoke with a few retailers about how things are shaping up with the system so far.
First up is GEO. GEO is a nation-wide CD and DVD rental / seller, and the majority of the store also sells new and used video games. They have 1,686 shops total in Japan and 1,131 of them are also selling video games.
GEO says that customers in their 30's as well as families were responding the most to Switch. Only a few locations had lines forming for pre-orders, but its entire reservation slots were filled in two days. A reason why it filled faster than expected was due to low quantity. Moreover, there were many consumers who couldn't buy Famicom Mini, PSVR, or PlayStation 4 Pro at launch, so that's another reason why consumers rushed to reserve Switch.
Pre-orders for the gray color were taken before the neon version. Also, neon was reserved more by women, including those who came to reserve a system for their child.
The Legend of Zelda: Breath of the Wild was by far the most popular game. 1-2-Switch was next, followed by Super Bomberman R.
An official carrying case was the most popular peripheral. This may be due to the concept of taking a console experience on the go, which is resonating with consumers.
As for the price, the representative thinks it's just right.
Next up is Bic Camera, a nation-wide major electronics and home appliances retailer. They only have 20 stores, but each one is a multi-floor gigantic building and located at the best and highly valuable districts of major cities.
At Bit Camera located in Yurakucho, 200 people formed a line for Switch. The Ikebukuro store had the longest line and there were 700 people amazingly enough. Switch didn't seem to be receiving a ton of interest at Bic Camera after Nintendo presented the system, but as the day for reservations approached, interest continued to increase.
Just like GEO, gray was the more popular color option here. However, once it reached its quota, most customers decided to reserve the neon option.
Zelda: Breath of the Wild was unsurprisingly the most popular launch title followed by 1-2-Switch. There were more reservations for Dragon Quest Heroes I-II than expected, even it isn't a brand new title.
The representative closed by saying that pricing for Switch is appropriate. He wants more supply of product.
Last but not least, we have some comments from Games Maya. Although Games Maya is a small independent video game retailer, it is widely known in Japan and the manager is also accepted as video game retailer's opinion leader in a sense. The shop also pushes particular game with a special displays, events, etc. so Games Maya has the ability to occasionally create cult hits. Even some famous developers participate in autograph sessions only for the small independent shop.
Games Maya has seen a pretty huge reaction from consumers since Switch was presented. In fact, there were some who said they would buy it regardless of the price. Big lines formed during the day for pre-orders, and all slots were filled by around noon. The representative felt a stronger reaction compared to past consoles, but wants more supply of Switch.
It's three for three with popular colors, as gray was more sought after here as well. Those coming with kids were reserving the neon version though. Also, customers stopped by who just wanted to reserve Switch no matter the color, so the final ratio between the two colors was roughly 6:4.
Launch title popularity was Zelda and next was 1-2-Switch. Popular peripheral was the Switch Pro Controller. Those who were pre-ordering Zelda also reserved the controller. The rep here is already seeing three times more demand from customers than actual supply, so she is predicting short supply. The demand was much more than expected.
For the price, the retailer representative had an impression that consumers accept it as being cheap. She also think it is cheaper than she expected, but was thinking that if the price was not below the PlayStation, it will be tough. She think the price is appropriate after all.
Leave a Reply