Miitomo – new Miitomo Drop stages and Everybody Answers question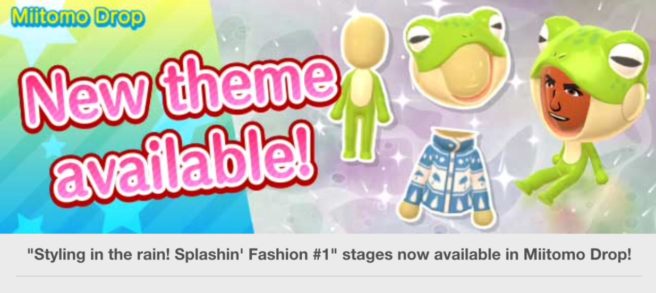 Miitomo has been updated with new content once again. This time around, "Styling in the rain! Splashin' Fashion #1" stages are available in Miitomo Drop.
These items can be obtained:
– Rainy-day jacket
– Raindrop skirt
– Thunderbolt jeans
– Thunderbolt pendant
– Head umbrella
– Rain-soaked newspaper
– Rain-soaked shirt (set)
– Rain-soaked pants (set)
– Hydrangea cap
– Froggy hood (set)
– Froggy suit (set)
– Snail shell
Aside from the latest Miitomo Drop additions, there's also a new Everybody Answers question. The featured question is: "What's a mysterious experience you've had?" The event runs until June 17 at 4:59 PM PT / 7:59 PM ET. If you answer the question while it's active, you'll be provided with Miitomo Platinum Points on My Nintendo.
Leave a Reply