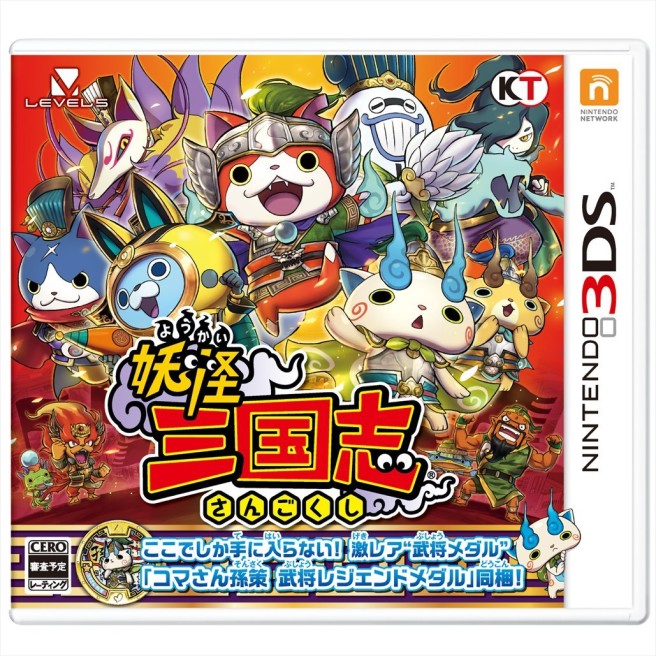 Additional details about Yo-kai Sangokushi are provided on the title's website. There are a few more bits on the story as well as gameplay.
Yo-kai Sangokushi kicks off as Jibanyan, USApyon, and Komasan come across the Yo-kai Sangokushi book in a library, and are teleported inside. After waking up, Jibanyan finds himself donned in armor. A mysterious force causes the group to become separated, and they won't be returning home unless they're reunited.
As far as gameplay is concerned, here's what the website says:
– Strategy game with grids
– Move Yo-kai onto blue squares
– Red squares house enemies
– Attack enemies by moving onto red squares
– Limit on how many times magic can be used in battle
– Assist system lets you help out another one of your Yo-kai and prevent enemies from moving
– Limit on assists just like magic
– Fill a gauge for powerful Soultimate attacks
– Different types of Soultimate attacks depending on the Yo-kai
– Players are advised to check in on information before battling enemies
– Ex: if enemies have the upperhand in number, it'll be difficult for you to prevail
– Obtain new Yo-kai through the Capsule Toy Machine
– Can obtain rare Yo-kai as well
Check out the latest screenshots of Yo-kai Sangokushi below.
Leave a Reply