[REVIEW] LEGO Batman 2: DC Super Heroes (Wii U)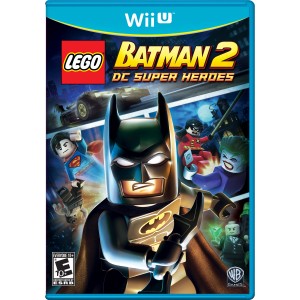 ---
LEGO Batman makes its Wii U debut just under a year after releasing on PS3 and Xbox 360. Is the added functionality worthwhile?
---
Author: Laura
Alright, so I know what you guys are thinking, "Why on earth would Warner Bros. Interactive and Traveller's Tales release a year-old game on the Wii U when I can just buy it for less money on a different console?" Well I'm here to tell you that LEGO Batman 2: DC Super Heroes on Wii U stands strong on its own with the integration of Wii U Gamepad controls. Not only is it a sequel, it's a unique game on its own, allowing players to enjoy exploring the Batman Universe for a second time.
---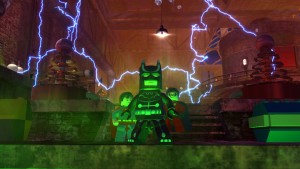 ---
I came into LEGO Batman 2 thinking it would be your typical Lego sequel with some new storyline and no new gameplay features, i.e. LEGO Indiana Jones 2. What took me by surprise was how different it was from the previous Lego Batman game and how similar it was to LEGO City Undercover. There's an open world where you can explore Gotham City– which is a dream come true for people who love the Batman Universe– and it also uses the Gamepad as an interactive map where you can see your objective path. You still have objectives and missions to complete like any other LEGO game but you can explore the city in between.
The level design is the same as it has always been, running around an area figuring out puzzles to complete your mission. There are also missions where you have to shoot in an on-rails car or air chase which can get a bit boring, but overall the level setup hasn't changed a bit, which in this case is okay. LEGO games are known for that style and it's part of the reason they're so popular. What really makes it a great game, above its predecessor, is the open world.
The open world is full of things to discover and break apart– which is of course the best part of any LEGO game– and you've got a bunch of "Citizens in Peril" to rescue, a bunch of gold and red bricks to locate, and the newest addition of finding and defeating villains that are scattered throughout Gotham City. Instead of the original character collecting method in previous games where you could purchase them in your 'home base", however, you must defeat the villains and then purchase them while they surrender. Unfortunately, this makes it more frustrating to complete your collection since you really have to work for it.
The cast of characters has now expanded beyond the Batman Universe into the entire DC Superhero universe, highlighting The Justice League. This means that some of the villains come from other storylines that Batman fans may not be familiar with, but it also adds a bunch of new personality to the game with kooky criminals such as Captain Boomerang from The Flash's universe or Sinestro from The Green Lantern's universe.
---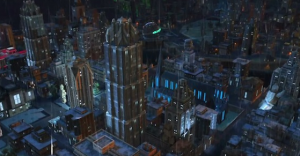 ---
The addition of the Wii U Gamepad allows for many different play styles. The default way to play is using the gamepad as your map (leaving the TV to be your primary focus), but now you can also send the TV image to your gamepad, making it possible to have a more handheld experience. I chose that as my method since it seemed to really emphasize the key elements of a LEGO game (such as the detailed environments), and it was almost as if all LEGO games were meant to be played this way.
Not only does the gamepad allows for a unique single player experience, but it also really fixes how the multiplayer function works in a LEGO game. Usually your friend joins and it splits the screen in an awkward diagonal way, making it hard to see where you are going and hard to complete goals. Now you can play with one player on the TV and one on the Gamepad.
---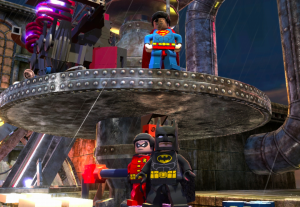 ---
Some of the charm of past LEGO franchise games came from the fact that there was no voice acting, and all of the familiar scenes were sort of pantomimed. In DC Super Heroes they added voice actors, which really takes some of the quirkiness away. It worked in LEGO City Undercover because it was a new unique story that needed explaining, but LEGO Batman is a known plot and can be understood with just actions. One positive note about the voice acting is that they got some of the voice actors from 'The Justice League' and the 'Justice League: Unlimited' TV series. It added a comfortable, familiar feeling, especially for those who enjoyed the TV series.
One of my favorite things in this game is the atmosphere within the open world of Gotham City, particularly the scenery. Flying around as Superman while his theme plays and looking at the night sky always puts me at ease, and the entire city has pretty dark tone overall, which is perfectly befitting for Gotham and adds a sort of intimacy for Batman fans.
The last piece that completes this LEGO game is the music, comprised of themes by Danny Elfman, John Williams and new music by Rob Westwood. Nothing makes you feel more heroic than running (or flying) around and fighting crime with the Batman Theme or Superman Theme playing along with you. It's a perfect combination of familiar themes and subtle background music that makes this soundtrack work so well.
---
The bottom line…?
Overall all this game can stand on its own, apart from both its LEGO predecessors and apart from itself on other consoles. It may not be worth shelling out another $60 dollars for if you've already purchased it for another system, but if you're looking for another great LEGO game to play on the Wii U, LEGO Batman 2: DC Super Heroes is a safe bet.
---
Buy this game if…
… you enjoyed the original LEGO Batman or LEGO City Undercover.
Don't but this game if…
… you don't enjoy games with a childish tone or open-world adventures. Especially don't buy it if you've gotten it for another console; the extra features with the Wii U Gamepad aren't worth paying a second time for.
---
---
---
Want to reach Laura for some reason?

Try her twitter!
–
Want to participate in more NintendoEverything goodness?
Try our Facebook page!
Or our Twitter page!
Leave a Reply