2D action-adventure game ConnecTank announced for Switch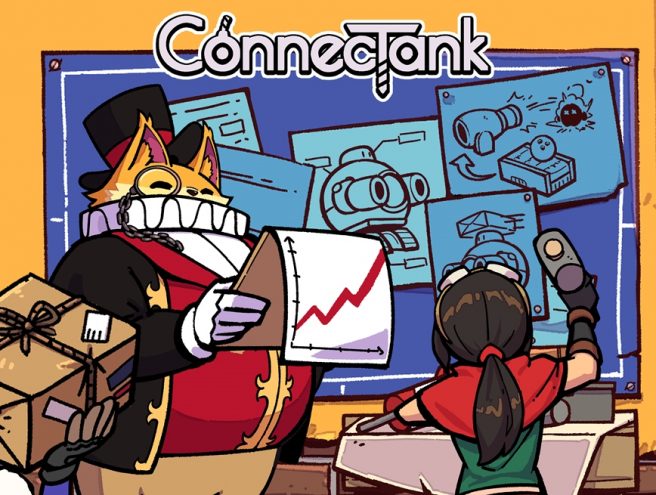 Natsume and Fallen Legion developer YummyYummyTummy have announced ConnecTank, a 2D action-adventure game. A release is planned for this fall.
Here's an overview of ConnecTank, along with the first screenshots:
ConnecTank is a 2D action-adventure game developed by YummyYummyTummy, Inc. for one-to-four players that combines exciting tank battles with puzzle solving. In ConnecTank, players deliver packages for one of three Barons seeking to become the top Tycoon of New Pangea! Through innovative tank battle mechanics utilizing both skill and teamwork, players fight rival tanks to improve their existing tank or, once enough parts are collected, use new ones! Each mammoth sized tank comes with its own unique skills, strengths, and weaknesses, so choose wisely! With hundreds of missions, ever-changing powerups, and dozens of tanks to battle the possibilities are endless!

The first screenshot is the overworld map that appears for every mission. Here you can see the different routes you can take, the tanks you could battle, and the different power ups you could acquire up along the way.

The second screenshot shows a tank battle. Players can craft ammo to fire at the opposing tank by following blueprints in the middle of the screen.

The third screenshot is the opening of a mission, and Finneas Fat Cat (one of the "Barons" in the game) is displaying his "admiration" for you before sending you out to deliver building materials for his tank factory.
Source: Natsume PR
Leave a Reply