2D puzzle platformer Duru: About Mole Rats and Depression in the works for Switch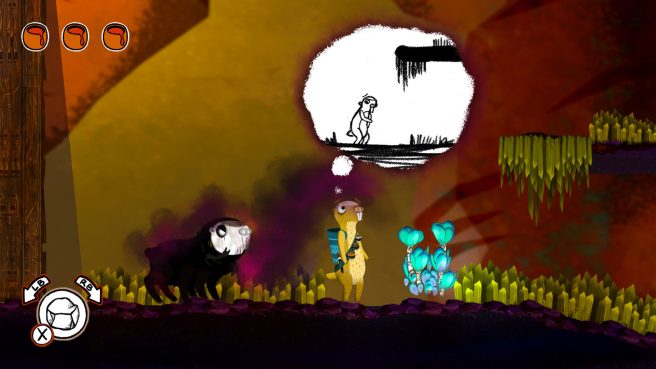 Another 2D puzzle platformer is lined up for Switch, with Twisted Ramble Games having announced Duru: About Mole Rats and Depression for the platformer. The game will initially come to PC on May 5, though it'll be on Nintendo's console after that.
Here's an official overview with more details:
Tuli, a mole rat entrenched in colony life in the South African plains, serves as a gatherer responsible for securing the food and resources her community needs to survive. Her fulfillment comes from seeing friends and family thrive due to her hard work, made even harder by a mysterious black creature following her every move and making even the most straightforward task feel impossible.

Guide Tuli on a journey through her colony's tunnels with Bel, her dark shadow always in tow. A manifestation of Tuli's developing depression, Bel often works against Tuli by moving objects, eating items, and manipulating the gatherer in unpredictable ways. To lift her spirits, Tuli must run, jump, and paint her way across the landscape while learning to overcome the desires of Bel and honing them to Tuli's advantage.

Draw objects and items, painting them into beautifully illustrated and animated locations. Learn to balance Bel's destructive behaviors in a positive way to solve puzzles and progress through the colony. Rebel against the insecurities and depression hanging over Tuli on a heartfelt adventure presented in a wordless format that speaks to everyone, regardless of language.
Narrative designer Kerstin Schütt said of the new game: "Duru: About Mole Rats and Depression has a human heart at its core. We hope Tuli's struggles and her path to overcoming them in our debut title will resonate with players across the world and remind them hope springs eternal."
For a closer look at the game, check out the trailer below.
Duru: About Mole Rats and Depression will cost $19.99 / €19.99 at launch.
Leave a Reply