A Frog's Tale, turn-based RPG inspired by Mario & Luigi and more, on track for Switch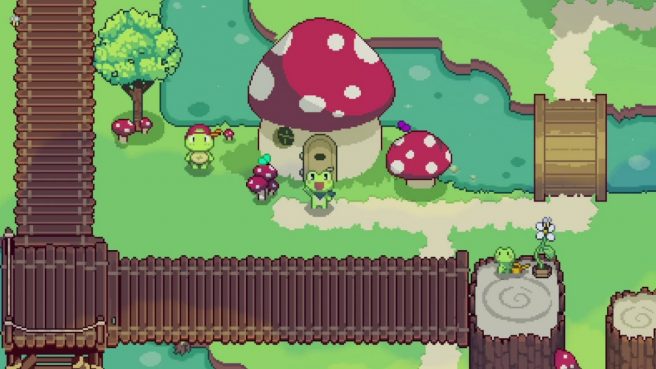 A Kickstarter campaign previously opened for A Frog's Tale, a turn-based RPG. It did quite well with the project exceeding its $50,000 target. In the end the amount actually stands at over $100,000, which was more than double the goal.
The crowdfunding campaign was held "to fund continued development of the playable demo version of A Frog's Tale." The team "set a reasonable goal amount with the intention of furthering development enough to land us the rest of the funding we need to complete the game from outside sources." Thankfully, the goal was met, and a Switch version is an important target.
A Frog's Tale is initially planned for release on PC. A Switch port depends on "successful funding, public demand, and approval from Nintendo." Since the campaign was funded, the demand is there, and Nintendo will almost certainly approve, there's nothing that should stop a port.
Going into the game itself, A Frog's Tale is turn-based RPG inspired by some notable title. Mario & Luigi, Kingdom Hearts, and Tales of Symphonia are referenced on Kickstarter.
Here's some additional information:
A Frog's Tale is a charming froggy RPG with a musical twist on classic turn-based gameplay, featuring hand-animated pixel art inspired by retro consoles, enhanced for the modern era. A unique rhythm combat system, puzzles, and platforming challenges all synced to the beat of our amazing soundtrack provide an epic and emotion journey powered by unique and captivating gameplay.

You play as Norman, a young frog from the quiet forest village of Kero Pond. While investigating the abnormally large and aggressive bugs on the forest outskirts one day, an unlikely encounter with a mysterious cardinal bird sweeps our hero off on an extraordinary journey to find the broken shards of an ancient artifact with the alleged power to bring the dead back to life.

Use your frog hops and swing your sword to overcome obstacles, solve rhythm-based puzzles, and defeat any monsters that oppose Norman's quest to find the broken shards. Along the way, you'll learn the truth of the ancient artifact's power and the secrets of the frog goddess Anura.
View a trailer for A Frog's Tale below.
Development for A Frog's Tale is still ongoing, and there's no word on a release window at this time. Fans can learn more on the Kickstarter page here.
Leave a Reply