A Long Way Down announced for Switch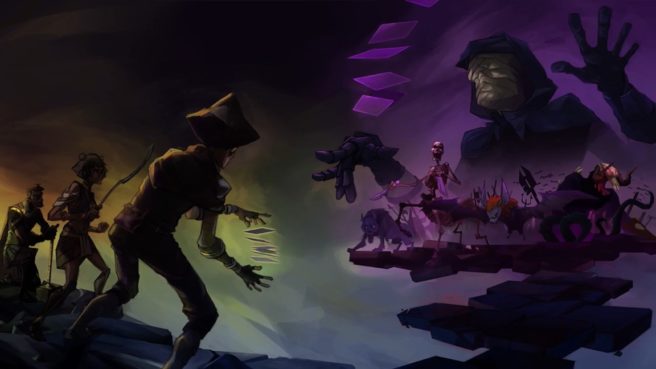 A Long Way Down is coming to Switch, Seenapsis has announced. The deck-building roguelite RPG will be distributed on the eShop.
We have the following overview and trailer:
Dive into a dark and tormented world, challenge the sneaky master of the dungeon. Collect cards, upgrade your stuff and maybe you could escape the maze. Will you make smart choices and successfully convince your companions in misfortune.

A long way down is the perfect mashup between a RPG-tinged rogue-lite and a deck-building game. All game levels are generated procedurally. It gives a huge replay value to the game with new choices and situations on every iteration. Fights are based on deck-building games which involve tactical choices that can turn desperate fights into epic wins. This indie game has a rogue-lite oriented gameplay felt in difficulty, which is spicy due to randomness in levels generation but also in the way that you'll build you own path through your journey. You'll have the possibilities of using items that will hugely impact your journey. You're more of a mage? Use the staff instead of the sword. But in case it's too vanilla for you, feel free to craft something more epic! Along your way, you'll encounter characters that can turn into powerful friends or merciful foes. Mental sanity will always be a big deal. While shadows surround you, what kind of choices will you make? Will you choose virtuous actions or more sinful manners? Your morality choices will influence your perception of the dungeon and how much you enjoy (or suffer from) the journey.

Features
– Build a crew to roam the darkness of the mastermind's lair
– Dive in a journey where sin meets virtue on every crossroad
– Gather memories from your past to understand the heroes journey
– Upgrade epic weapons & armors to overcome bigger foes
– Adapt your play style & upgrade your skills to face various challenges
– Play the adventure again and try new morality choices
A release window for A Long Way Down has not yet been determined.
Source: Seenapsis PR
Leave a Reply